Flood threat persists in southwest
China Daily, July 17, 2014

Adjust font size:

Torrential rain and floods that have battered southwestern China since Friday will continue, according to forecasters.

At least 32 people have died in weather-related incidents, which have included toppled buildings and traffic chaos. Tens of thousands have been forced to leave their homes.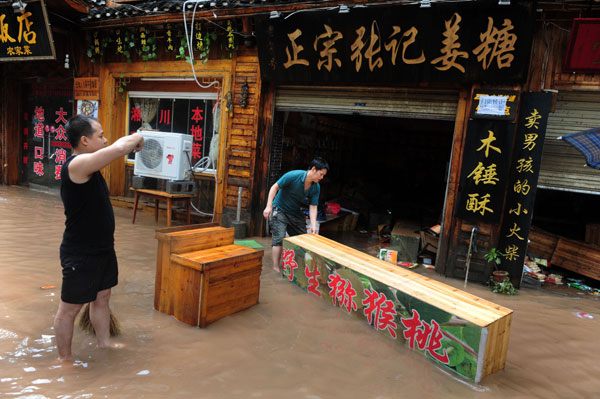 Shop owners clean up the mess after floodwaters receded in the ancient-town resort of Fenghuang in Hunan province on Wednesday. Heavy downpours hit a large part of southwestern China, killing at least 32 and displacing tens of thousands. [Photo/China Daily]
Zhang Fanghua, chief forecaster at the National Meteorological Center, warned that local authorities should make full-scale preparations for geological disasters that could be triggered by rains in Guizhou, Hunan, Hubei and Yunnan provinces and in Chongqing.
The center issued multiple warnings for flash floods and heavy rains on Wednesday.
Fenghuang county, a resort area in Hunan province, has been submerged since Monday, with about 115,000 residents and tourists evacuated to higher land.
Direct economic losses are estimated at about 305 million yuan ($50 million), according to the county government.
Rainstorms caused the Tuojiang River through the county to swell on Tuesday, with the water level reaching 307 meters, 1.5 m higher than its historic record. Water and power supplies have also been cut off in the county.
All scenic resorts in the ancient town were closed after a 230-millimeter downpour on Monday.
Tian Renyou, who lives near the river, had two sleepless nights since Monday, worrying that his home could be submerged at any moment. His furniture was soaked in water about 30 centimeters deep.