UN: Clean trillion dollars needed for "green" investment
chinagate.cn by Jiao Meng, July 16, 2014

Adjust font size: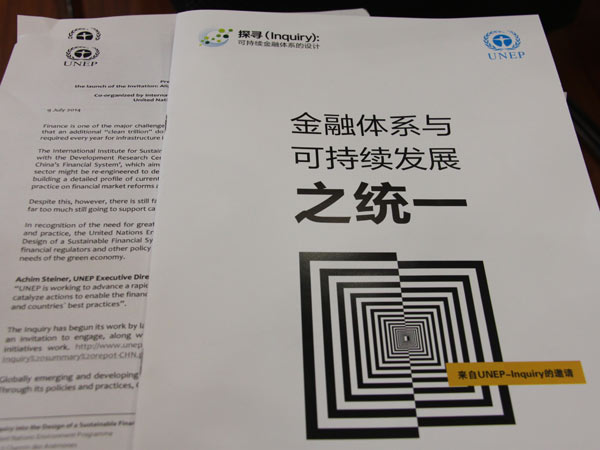 An additional "clean trillion" dollars will be needed annually to green the US$ 5 trillion that will be required every year for infrastructure investment globally up until 2030, said a UNEP report released last week.
In recognition of the need for greater policy coherence across economic and social agendas, policies and practice, the United Nations Environment Programme (UNEP) is carrying out its Inquiry into the Design of a Sustainable Financial System. This international initiative is examining how central banks, financial regulators and other policy and rule-makers can contribute to aligning financial markets to the needs of the green economy.
The International Institute for Sustainable Development and the Fridjof Nansent Foundation, together with the Development Research Centre of the State Council, have launched the initiative 'Greening China's Financial System', which aims to explore how the financial system and the financial services sector might be re-engineered to deliver on sustainable and equitable development. The initiative is building a detailed profile of current developments to green the financial system in China, and best practice on financial market reforms and policy internationally.
The report believes there is still far too little investment globally going into the green economy and far too much going to support carbon and natural resource-intensive economic opportunities.
Achim Steiner, UNEP executive director and under-secretary general of the United Nations said: "UNEP is working to advance a rapid transition towards an inclusive, green economy. The inquiry will catalyze actions to enable the financial system to support the transition, building on policy innovations and countries' best practices."
Tomas Anker Christensen, ambassador and senior advisor for partnerships at the UNSG Office describes green finance as "an unexplored market and uncharted territory." "Addressing climate change is no longer a job for the government alone; we need to bring in business, finance and the whole society into this conversation," he said.
The latest IPCC report shows much more effort needs to be made to manage the increasing average temperature on earth by 2 C. "Of course, it cannot be solved by simply investing some million dollars into solar panels," he said.
Christensen said annual investment of the global insurers values about US$25 trillion. "They are quite aware of the climate risks. But the problem is that they still invest in dirty industries," he explained.
Simon Zadek, co-director of the report believes it is time to rebuild a green finance system which could change investment rules and encourage green products. "The vast majority of the US$250 trillion in the capital market has been invested in yesterday's economy, especially in carbon-intensified industries. What we should do is to try to establish a new system which can identify these green innovations and share their growth opportunities instead," he said.