China's inflation grows 2.3% in June
Xinhua, July 9, 2014

Adjust font size:

The consumer price index, a main gauge of inflation, grew 2.3 percent year-on-year in June, down from 2.5 percent in May, China's National Bureau of Statistics (NBS) announced on Wednesday.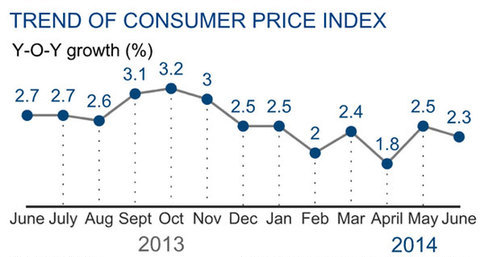 China's inflation grows 2.3% in June. [Chinadaily.com.cn]
The growth was in line with previous market forecasts that the CPI would further moderate in June from the previous month. NBS data also showed the inflation rate in the world's second-largest economy stood at 2.3 percent in the first half of 2014.
In June, inflation in the country's urban regions grew 2.4 percent, higher than the 2.1 percent in the rural regions, NBS data showed.
Food prices, which account for around one third of the weighting in the CPI calculation, grew at a tempered rate of 3.7 percent year-on-year last month, down from the 4.1 percent growth in May. Food prices in June also declined 0.4 percent month on month.
In the food category, fresh fruits provided the greatest boost to inflation, with prices jumping 19.8 percent year-on-year in June, contributing 0.42 percentage points to the CPI.
The meat and poultry category in general rose 1.9 percent, pushing up the CPI by 0.14 percentage points, but the price of pork, a staple of the Chinese diet, dipped 2.7 percent.
Prices of sea products grew 4 percent; prices of grain went up 3.2 percent, while fresh vegetable prices went down 1.8 percent, the NBS said.