US-based educational leaders learn about Chinese schools
china.org.cn / chinagate.cn by Wendy Lu, July 8, 2014

Adjust font size:

With Mandarin as one of the leading languages in the world, many educational groups are making an effort to promote cross-cultural cooperation between schools in China and the rest of the world.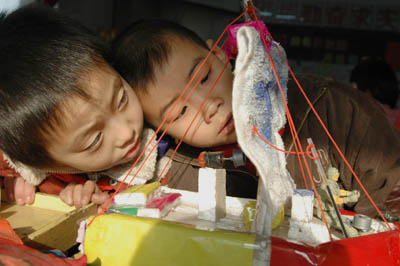 Two pupils are watching a toy boat made of recycled plastics. [Photo/jyb.cn] 
Sino Language & Beyond (SLB), which provides Chinese immersion programs for international students, is one such organization that collaborated with the American Association of School Administrators (AASA) and Chinese Association for Science and Technology, USA (CAST-USA) to create "Discover China," a professional development program for K-12 leaders.
Cultural distinctions, connections
Seven primary and secondary school educators from the United States were chosen by SLB to serve as delegates for "Discover China." From June 22 to July 5, the delegates traveled to four different cities in China -- Wuhan, Chongqing, Chengdu and Beijing -- and visited various schools, youth centers and other educational institutions in order to understand how the Chinese education system works, said Anna Yu, director of SLB.
"Chinese isn't popular at all where they [the educators] come from," Yu said. The program was designed to help delegates gain a better understanding of Chinese culture and to encourage them to promote Chinese learning opportunities in their own school districts.
During their travels, the delegates had the opportunity to chat with principals, teachers and students about how their schools operate and how education is perceived in China as opposed to in America. Andrew Smith, superintendent of Antelope Union High School District in Arizona, said he thinks Chinese people have a different level of learning expectations and that the children in China aren't made to feel special like American kids are.
Maryland-based principal Sonia Beckford agreed that there are cultural differences between Chinese and American upbringing of their youth.
"In America, [if the kids do a good job], you praise them. If not, you give them avenues about how to do better," said Beckford, who works at James Ryder Randall Elementary School. "Here, you have to be better and that's it."
Still, the delegates believe there is a lot of potential for collaboration between China and America when it comes to joint educational opportunities and cultural exchanges.
"As we've been traveling around, I think there's been a consistent observation that there's curriculum reform happening here and there's also curriculum reform happening in the United States," said Tracy Crowe, deputy superintendent for Pittsfield public schools in Massachusetts. "The two countries have common interests and can learn from each other and work together."