China sets up weather station on Mt. Everest
china.org.cn / chinagate.cn by Lin Liyao, July 8, 2014

Adjust font size:

China set up an automatic meteorological observation station at the East Rongbuk Glacier of Mount Everest, according to a report by Xinhua News Agency.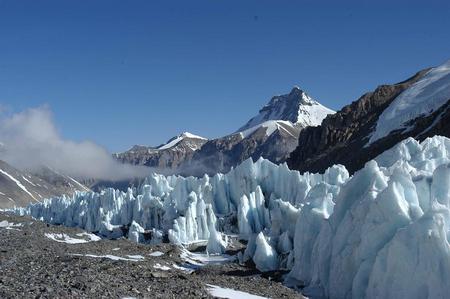 A file photo of the East Rongbuk Glacier.
Located 5,830 meters above the ground, the station is the highest long-term positioning automatic meteorological observation station in the country. It will be used to monitor the weather conditions of the East Rongbuk Glacier and the exchange progress between glaciers and atmosphere.
"Thanks to the help of a Tibetan mountaineering guide and local people, we have set up the station after four days of work," said Wang Zhongyan, deputy head of the Atmospheric and Environmental Comprehensive Observation and Research Station on Mount Everest, Chinese Academy of Sciences.
According to Wang, China has three meteorological observation stations on Mount Everest at 4,276 meters, 5,190 meters and 5,830 meters high, respectively.
"The three stations form a relatively complete observation section at different altitude gradients," Wang said. "We will collect records regularly and ensure the normal operations of the station."
Mount Everest, which stands at the middle section of the Himalayas, consists of a large area of glaciers, especially a large valley glacier. The glacier covers a total area of around 1,600 square meters, accounting for 32 percent of the entire region of the Mount Everest.