WB: Downside risks remain in China
chinagate.cn, July 7, 2014

Adjust font size:

China's growth is likely to ease moderately but downside risks remain, according to the latest World Bank report China Economic Update.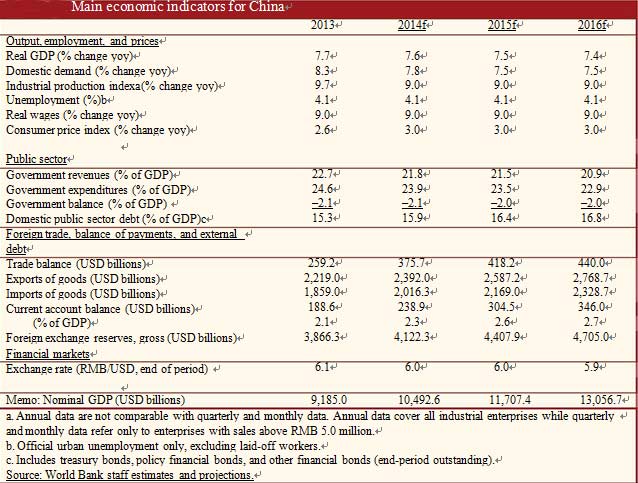 Growth in China is expected to decrease marginally to 7.6 percent in 2014 and 7.5 percent in 2015, from 7.7 percent in 2012 and 2013. In March the authorities announced anindicative growth target for 2014 of about 7.5 percent, identical to oneannounced for 2013, and exceeding the growth target of 7.0 percent identified in the 12th five-year plan. This target is likely to be met. A planned decline in investment growth will be offset by a gradual increase in consumption growth, the lattersupported by an increase in household incomes and a gradual narrowing of the urban–rural income gap. The contributionof net exports is seen increasing gradually as external demand in advanced countries continues to improve. Industrial production is expected to gain momentum in the rest of the year, supported by recently taken growth-supporting measures. Growth is forecast at 7.5 percent in 2015 and 7.4 percent in 2016, assuming a robust but slightly moderating growth path。
On the supply side, industrial activity is expected to pick up in the second and third quarters of 2014, buttressed by external demand and acceleration of public infrastructure investment. However, certain sectors with excess capacity will continue to experience headwinds as credit conditions tighten further and environmental costs of pollution become internalized. Services are expected to strengthen, supported by stronger domestic demand.
Inflation will stay contained. Inflation is expected to be 3.0 percent in 2014, slightly higher than in 2013 but below the government's target of 3.5 percent. However, there is a risk that food prices might increase more than expected due to the tensions in Ukraine and El Niño phenomenon, which appears increasingly likely this year and could cause considerable damage on crop yields. The adverse weather conditions and the associated uptick in global food prices at the start of the year have been linked to the El Niño phenomenon. Yields during El Niño years could suffer considerably, leading to production declines at a global level. World yields for rice, which typically grow at 1.7 percent a year in normal years, grew only 0.7 percent during the five strong El Niño years. Further upside price risks also stem from tensions in Ukraine. Between 2010 and 2013 Russia and Ukraine accounted for 11 percent and 5 percent of global wheat exports, and Ukraine accounted for more than 14 percent of global maize exports. While the risks of disruption are low, any shortfall in supplies that occurs in tandem with the El Niño phenomenon could lead to significantly higher prices.