Report on shipping and port air emissions released
chinagate.cn, July 3, 2014

Adjust font size:

The Natural Resources Defense Council (NRDC) has released a report on the Prevention and Control of Shipping and Port Air Emissions, which summarizes the latest research in the field, including the impact of port and shipping emissions on the environment and public health, and international experiences from the International Maritime Organization as well as other nations in setting related policies and regulations. this report will serve as reference information for the Chinese government and key port cities in China.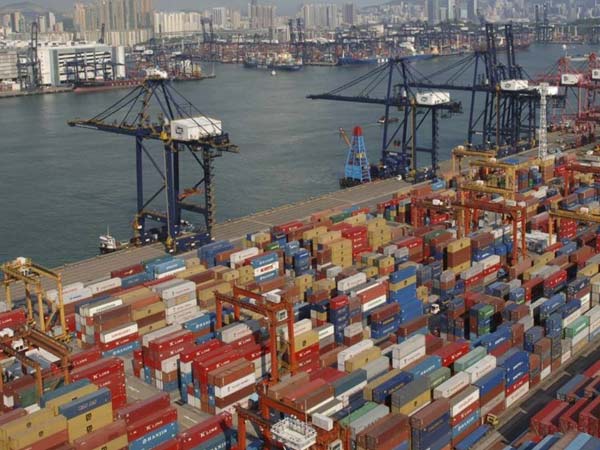 China is home to 7 of the 10 busiest container ports in the world. [File photo]
China is home to 7 of the 10 busiest container ports in the world. Along with tremendous economic growth, port and shipping operations have also brought major air pollution in and around these ports. The main air pollutants emitted by vessels, trucks, and cargo-handling equipment include particulate matter (PM), sulfur dioxide, and nitrogen oxide. These pollutants have significant negative impacts on air quality, climate change, and human health. A study estimated that international shipping caused 46,000 annual premature deaths in the European Union in 2011. A study from Hong Kong found that in 2008, emissions from ocean-going vessels and inland vessels contributed to 1,202 premature deaths. In addition, China's major port cities are also some of the most densely populated cities in the world, posing an even higher risk to public health compared to other port cities.
A number of European and North American nations recognize the negative impacts of port and shipping emissions and have introduced relevant policies to promote the use of low-sulfur fuels and cleaner technologies that reduce sulfur dioxide, PM, and nitrogen oxide emissions. Such technologies include switching to low-sulfur fuel, using electric shore power, promoting vessels that run on liquefied natural gas (LNG), using exhaust gas scrubbers, limiting vessel speeds, and establishing an Emission Control Area (ECA) under the International Maritime Origination.
Certain Chinese port cities have started to examine the issue of port and shipping emissions. Hong Kong was the first to implement strict standards for local vessels to switch to low-sulfur fuel and introduce incentives for ocean-going vessels to switch to low-sulfur fuel when berthing. Following Hong Kong, Shenzhen announced a series of measures to encourage ships, trucks, and cargo-handling equipment in the ports to switch to clean energy sources. Shanghai, Guangdong, Jiangsu, and Shandong have also begun to promote the use of shore power, electric or gas-powered trucks as well as electrification of port equipment.
While these measures are encouraging, prevention and control of air pollution from shipping and ports is still a relatively new issue for China. Collection of data and studies on port-specific conditions are still at an infant stage, which makes it challenging for the governments of port regions to design air emissions control measures for ports and ships that best suit local conditions. Moreover, due to the competitive nature of the shipping industry, unless ports work together on regional emission control measures, ships may reroute to ports with less stringent standards, which will ultimately undermine the effectiveness of air pollution control measures implemented by leading port regions.
Experiences from large ports in Europe and the U.S. have shown that having a detailed emissions inventory allows ports to prioritize emission reduction measures on a cost-effectiveness basis. Emission inventories can provide the scientific basis for ports to develop "Clean Port Action Plans" which can be visited and adjusted regularly to effectively improve air quality for port regions. The process of formulating a Clean Port Action Plan based on a widely accepted emissions inventory was also a critical reason why European and U.S. ports could obtain support from the port and shipping industry for emission reduction measures. China's port cities can learn from successful international experiences, conduct in-depth research on port emissions, and select pollution control measures and policies that are the most cost-effective, most easily accepted by industry, and most beneficial for the environment and public health.
Director Ding noted that, in the near term, at berth fuel switching is a feasible and effective emissions control measure that can be enacted immediately. Right now, a large number of ocean going vessels have already installed fuel-switching equipment onboard. China's first priority would be to establish and enforce stricter fuel quality standard for marine fuel, and to encourage port cities to introduce incentive policies for at-berth fuel switching as soon as possible. Through better control of air emissions from ships and ports, China not only can substantially improve its air quality, but can also help meet its global climate commitments.
During the press conference, David Pettit spoke of NRDC's experience in helping California and other areas effectively govern ports and limit air pollution from ships. NRDC hopes to use its expertise and wealth of experience to help Chinese coastal provinces refine and improve shipping and port emission control measures in order to accelerate the transition to clean vessels, cargo trucks and port facilities, thereby reaching China's ambient air quality objectives earlier.