Economists advise on China's green shift
chinagate.cn by Jiao Meng, July 3, 2014

Adjust font size:

Several famous economists, including Nobel laureate Dr. James Mirrlees and former World Bank chief economist Justin Yifu Lin, were invited to a recent forum held in Guangzhouto share their visions of China's path to green growth.

China has witnessed rapid economic growth in the past 30 years. But environmental issues have emerged as big concerns and challenges. For example, China is now the biggest greenhouse gas emitter; additionally, problems such as smog, water safety and soil contamination have become a major livelihood concern. Thus, it's time for China to shift its development mode toward sustainable development in terms of economy, society and environment.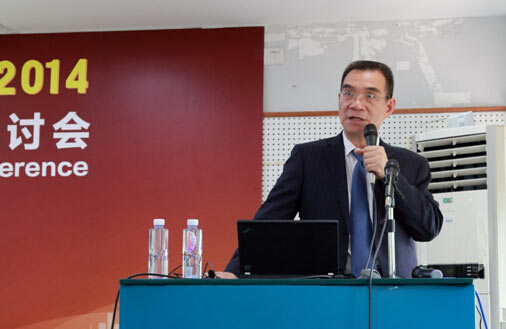 Justin Yifu Lin deliveres a keynote speech titled "Challenges and Opportunitiesfor China's Green Growth and Structural Transformation."
Justin Yifu Lin, now serving as the honorary dean and professor at the National School of Development at Peking University, delivered a keynote speech titled "Challenges and Opportunitiesfor China's Green Growth and Structural Transformation."He pointed out that green innovation is the foundation of China's competitiveness. China should adopt a "carrot and stick" policy on economic management to support green industry regarding urbanization and industrial upgrading. Justin Yifu Lin, former World Bank chief economist,delivers a keynote speech at the China Green Development Forum.
Marianne Fay, chief economist on sustainable development atthe World Bank, said she believes that green growth is economic growth with environmental sustainability. She said environmental deterioration in China accounts for 9 percent of the country's GDP. A research showed that in 2030, the cost of green growth in China will drop from the current 1.2 percent to 0.5-0.1 percent, and that environmental degradation will decrease to make up only 6 percent of GDP.She pointed out that China needs to improve energy efficiency in the short term, expand green technology in the mid-term and rebalance the economy in the long term.
Nobel laureateJames Mirrlees,also professor at the University of Cambridge,suggested China should establish a fully covered system of carbon tax. The carbon tax system should be an incentive to encourage R&S of green technologies. He called for more policies to combat global warming,and said he believes China could benefitfrom cutting emissions.
China Green Development Forum was co-organized by U.S.-based think-tanks Energy Foundation and Resources for the Future. Experts from China and abroad discussed theimplications and extension of green development strategy and the challenges and opportunitiesit has brought China.