Nicholas Negroponte talks digital tech in Beijing
china.org.cn / chinagate.cn by Wendy Lu, June 26, 2014

Adjust font size:

Nicholas Negroponte, a world-renowned American architect and computer scientist, addressed the rise and future of technology and its impact on the world at a conference hosted by Baidu, Inc., at Guo Mao Hotel in Beijing on Wednesday.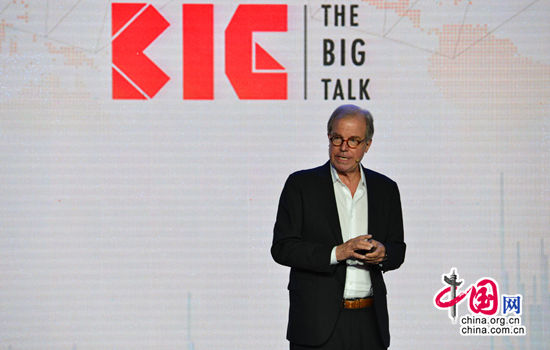 Nicholas Negroponte talks digital tech at Beijing conference.[Photo/China.org.cn]
Many people have grown up not knowing the world in a context that isn't predominately digital, Negroponte said during his lecture at the conference, which was themed "The Business Interest Next-Generation (BIG) Talk: Beyond Digital" and comprised of both morning and afternoon sessions.
During a meeting with the founders of the Internet in 1989, Negroponte said attendees guessed how many people would be using the Internet by the year 2000. Numbers ranging from nine million to 40 million were thrown out, but when Negroponte guessed one billion users, his colleagues laughed. Today, almost one billion Internet users are from China alone.
"We're at a stage where it's sort of meaningless to refer to something as digital, because more or less everything is digital," said Negroponte, founder of Massachusetts Institute of Technology (MIT)'s Media Lab and One Laptop Per Child, a nonprofit organization that seeks to provide children in developing countries with laptops for education purposes.
To Negroponte, education is the same as connectivity, a human right just like basic medicine and clean water. Providing these rights to others is a part of civic responsibility, because the quality of a collective society is better than just the quality of a single individual.
"When I started One Laptop Per Child, people would say to me things like, 'How can you give a kid a laptop when that child is starving, not clothed, and not healthy and all of those things?'" Negroponte said. "And I said, 'Wait, substitute the word laptop with the word 'education' and now say the sentence and ask the question again.' And people understand pretty quickly."
He also emphasized the importance of separating a company's or organization's mission from the market, introduced the idea of extreme bionics and called incrementalism "the enemy of creativity."
Innovation won't come from taking baby steps, but from "thinking about thinking" and learning how to think about problem-solving, Negroponte said. Computer programming and other mechanisms of using technology are tools by which individuals, particularly children, can engage in that kind of metacognition.
After Negroponte's lectures, Wang Jianzhou, chairman of the China Association for Public Companies and former president of China Mobile, facilitated an onstage discussion with Negroponte and a Q&A session with the audience.
Baidu, Inc., the host for "The BIG Talk" conference, is a Chinese web services company based in Beijing.