Rainstorms, floods kill 4 in Xinjiang
Xinhua, June 26, 2014

Adjust font size:

Rainstorms and floods since mid-June have left four people dead and more than 236,000 others affected in northwest China's Xinjiang Uygur Autonomous Region, local authorities said on Thursday.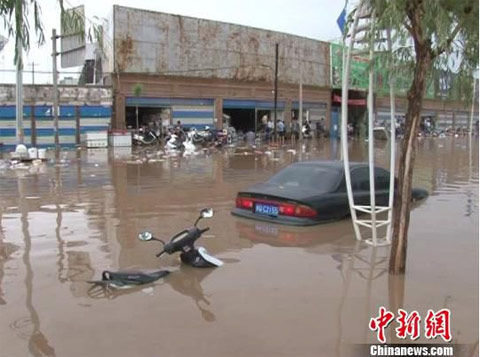 A car is submerged in flood waters in Kashgar in northwest China's Xinjiang Uygur Autonomous Region on June 19, 2014. [Photo/CNS] 
Gales and downpours have swept across Xinjiang, wreaking havoc in 27 cities and counties, according to the regional department of civil affairs.
As of noon on Tuesday, three people were confirmed to have died after being struck by lightning and another person drowned. A total of 3,761 people have been relocated, the department said.
The rainstorms have caused the collapse of or substantial damage to 1,257 houses and killed 4,979 domestic animals. Downpours have also affected 18,540 hectares of crops and led to direct economic losses of 278 million yuan (44.51 million U.S. dollars).
The regional government has dispatched emergency response teams to the areas. Relief materials, including tents and cotton clothes, have been sent to disaster-hit places.