37 Chinese universities make Times Asian top 100 list
China Daily, June 20, 2014

Adjust font size:

China, especially the Chinese mainland, is now within close reach with Japan - Asia's traditional number one spot in higher education, according to the Times Higher Education Asia University Rankings 2014 which was released Thursday.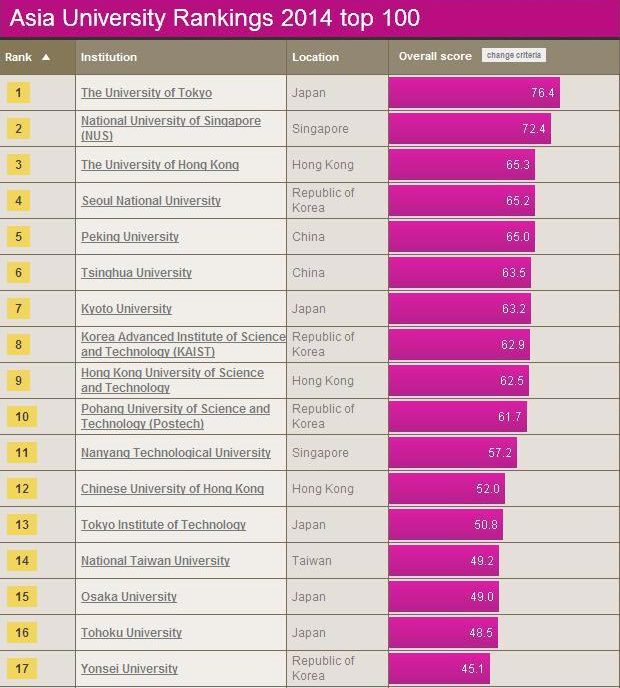 Courtesy from the Times Higher Education Asia University Rankings 2014. [Photo/timeshighereducation.co.uk]
Covering 13 Asian countries, the Times list is, "based on the same criteria as the THE World University Rankings, powered by Thomson Reuters…judging world class universities across all of their core missions - teaching, research, knowledge transfer and international outlook," the list editors said on the official website.
It's one of the few rankings on higher education that "are trusted by students, academics, university leaders, industry and governments" all over the world.
Japan remains supreme for its quality in higher education as 20 Japanese universities were listed in the 2014 rankings, but its status is now being challenged by both China and South Korea.
18 universities from the Chinese mainland made the list, while another six from Hong Kong and 13 from Chinese Taiwan were also listed. Of the 18, three universities from the Mainland are new to the 2014 list.
Peking University came in at number five, followed by Tsinghua University in sixth place among the 100 best Asian universities.
Though China outnumbered Japan in total schools, Japanese universities do show traditional dominance in taking higher places within the rankings.
"Japan's position at the top is being challenged by neighbors near and far intent on promoting and investing in their universities," the rankings' official website quoted Times Higher Education Rankings editor Phil Baty as saying.
"The data show that power is moving eastwards," Baty said.
The rankings quoted experts as believing Japan is losing the ground because of their country's tighter financial situation, prevailing self-content and conservatism.
Batyalso said, "The rankings show that China is mounting a serious challenge to Japan's traditional supremacy in Asian higher education."
The rankings also quoted Jamil Salmi, renowned education economist, as saying, "Other Asian countries, by contrast, such as China, Singapore – even the Saudis – are very driven and are working hard to improve their results."