Difficult choices for Chinese citizens in Iraq
china.org.cn / chinagate.cn by Wu Jin, June 19, 2014

Adjust font size: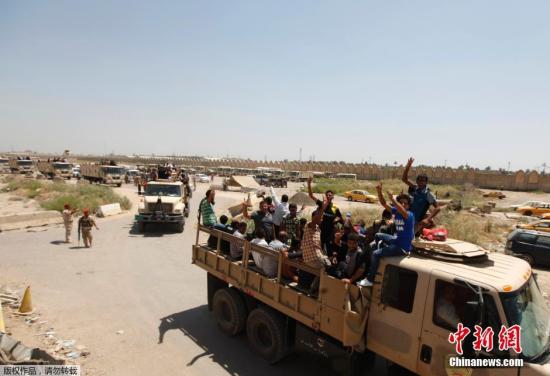 Volunteers in the government military in Baghdad, Iraq. [Chinanews.cn]
Chen Xianzhong, a Chinese businessman in Iraq, is bewildered at the horrifying gunfire between the Sunni insurgents and the government military. Not knowing what would happen next, he bought a one-way air ticket to leave the country.
But Chen was just among a few Chinese citizens in Iraq who decided to return to China. According to the Beijing Youth Daily, tens of thousands Chinese in the war-wrecked country are considering leaving the country after the escalating military strife has endangered their lives.
Unlike the massive amount of aid two years ago when the Chinese government evacuated 35,000 citizens from Libya, the Chinese embassy in Iraq is reticent this time and declined an interview with Beijing Youth Daily, saying it was an inappropriate time to give comments.
According to Chen, many Chinese citizens in Iraq work for state-owned enterprises, including China National Offshore Oil Cooperation, China National Petroleum Cooperation (CNPC) and Shanghai Electric Group Co. Ltd, in oil, electricity and electroplates.
Through cooperation, acquisitions and four government-led public biddings, Chinese oil producers have taken the largest share of the oil exploration business in Iraq. Besides, Chinese manufacturers produce 80 percent of the daily essentials in the local market. The website of Forbes magazine even joked that the United States should leave the Iraqi mess to China as China has huge interests there.
In Tuesday's briefing from the Ministry of Foreign Affairs, Chinese spokeswoman Hua Chunying said China and Iraq enjoy friendly bilateral relations. "The Chinese government supports the Iraqi government's efforts in maintaining the safety and stability of the country. And we hope Iraq can ensure safety and stability and restore order soon," she said.
She also said the ministry has not received any information on dispatching a delegation to Iraq.
But the Beijing Youth Daily predicted that the Chinese enterprises will inevitably consider evacuating their employees if the situation in Iraq deteriorates with the fall of Baghdad and the insurgents moving southward.
"Militants are entrenched in suburban Baghdad for the last defense," Chen said, "the highways leading to the north are all blocked."
According to Chen, a staff member from CNPC has reportedly been kidnapped and a group of Chinese electrical workers have been besieged in a camp in the chaotic north.
"Many gangs take advantage of the war, so we should be especially cautious when going out," Chen said.
The Chinese embassy in Iraq also published a notice on June 12, advising the Chinese citizens who planned to visit Iraq to postpone their trips, due to the turbulent situation in the country.