Mass dog vaccination program to combat rabies
chinagate.cn, June 18, 2014

Adjust font size: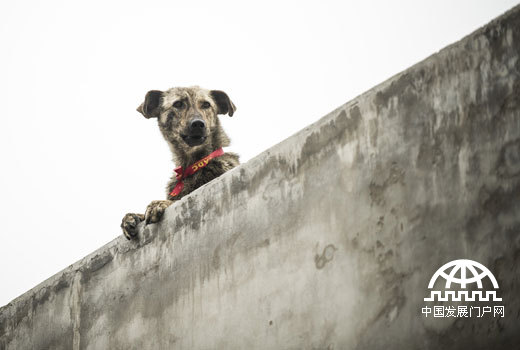 A humane and sustainable mass dog vaccination program to combat rabies is proving successful in pilots across China. A dog who has received vaccination will wear a red collar.
A humane and sustainable mass dog vaccination program to combat rabies is proving successful in pilots across China.
World Animal Protection, working with the Chinese Animal Disease Control Centre (CADC), began projects in China in 2012 in Shaanxi, Guizhou and Anhui Provinces. To date, 750 veterinarians have been trained and over 90,000 dogs vaccinated.
Each year around the world, millions of dogs are cruelly culled due to people's fear of rabies, in an ineffective bid to control the spread of the disease, which kills 55,000 people annually.
World Animal Protection is working to end the needless suffering of dogs and to tackle rabies by implementing the only effective alternative – mass dog vaccination. In addition to China, World Animal Protection has delivered mass vaccinations in Bali, The Philippines, Bangladesh, Kenya and Zanzibar.
Mass vaccinations protect dogs and communities and are endorsed by the World Health Organization, the World Organisation for Animal Health (OIE) and the Food and Agriculture Organisation of the United Nations (FAO).
According to the Ministry of Health's Status-quo of Rabies Prevention and Treatment in China, over 2,400 people die of rabies in China each year, ranking it second in the world for deaths due to the disease. Rabies is nearly always fatal once symptoms of the virus develop.
Yan Xinping of Hancheng City of Shaanxi Province said: "The locals usually think that dog culling is the only solution once rabies occurs due to the restrictions of access to knowledge. However, it has been proven that culling is an inefficient and inhumane practice that does not help in eradicating rabies. Furthermore, culling creates tensions and conflicts amongst people and numbers of problems arise once this practice is used"
"We launched the humane mass vaccination approach with an aim to learn the scientific and effective method to prevent and control rabies and to establish the correct awareness of rabies control through enhanced promotion."
Visiting Hancheng City in Shaanxi Province last week, CEO of World Animal Protection Mike Baker said: "Dogs – like all animals – have a right to live without suffering. By promoting mass vaccination we are inspiring people to change animals' lives for the better.
"Our work here in China and around the world shows that mass vaccinations are the humane and effective response to rabies. We look forward to building on these successful pilots here in Chinaand, with the CADC, we hope to move towards national mass dog vaccination."
China Country Director Zhonghua Zhao added: "From protecting animals in communities to training veterinary educators to understand and teach animal welfare, together with government, communities and veterinarians, World Animal Protection is protecting animals and helping build a beautiful and harmonious China."