Drinking and driving up sharply during World Cup
China Daily, June 18, 2014

Adjust font size: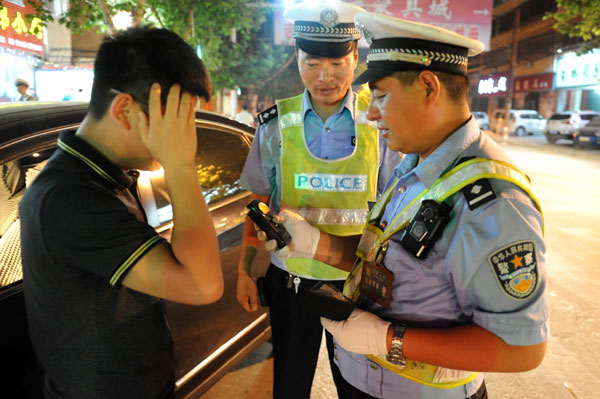 Traffic police officers test the blood-alcohol level of a driver in Shangqiu, Henan province, on Friday. [Photo / China Daily]
Cases involving people driving under the influence of alcohol have risen sharply since the FIFA World Cup in Brazil kicked off on June 12, as soccer fans tend to bet on their luck in eluding police checks, according to the Ministry of Public Security.
Statistics from the ministry show that in the first three days of the World Cup, which runs through July 13, police nationwide dealt with more than 570 cases of drunken driving and 5,200 cases of drinking while driving - an increase of 65 percent over the number for the first three days of the World Cup four years ago.
"The sharp increase should be attributed to intensified police checks and many people falsely believing they can avoid legal punishment," said Liu Chunyu, a press officer from the ministry's traffic control bureau.
According to Chinese Criminal Law, drivers are considered drunk if they have 80 milligrams or more of alcohol for every 100 milliliters of blood. Drivers who test at more than 20 milligrams but less than 80 milligrams of alcohol per 100 milliliters of blood are considered to be drinking and driving.
Meanwhile, Li Jingning, manager of Beijing Defuchengshun Automotive Technical Service Center, a driving service provider, said his business had declined by 10 percent since the beginning of the World Cup.
"Many soccer fans prefer to stay at home to watch the matches rather than coming to entertainment venues, and more important, some drunken drivers tend to bet on their luck of not being caught," he said.
To curb serious traffic accidents that result in tragedies, the ministry initiated a monthlong special action to crack down on drunken driving during the World Cup.
During the action, traffic-control police will make regular examinations or conduct mobile patrols at restaurants, hotels, pubs, KTVs, sidewalk snack booths and soccer-fan saloons for the entire night, according to the ministry. They also will check surrounding areas to prevent drunken driving, it said.
Liu said that during the World Cup, apart from setting up checkpoints in the evenings, police also will conduct mobile patrols and casual examinations of suspicious cars and drivers during the daytime.
One typical case occurred on Saturday, when a male driver, surnamed Jin, was detained for drunken driving. Blood testing determined that he had 133 milligrams of alcohol per 100 milliliters of blood, according to Hangzhou police.