Japan kills 30 whales in the name of 'science'
china.org.cn / chinagate.cn, June 18, 2014

Adjust font size:

Japan has slaughtered 30 minke whales, 16 male and 14 female, in its first hunt since the UN's top court ordered a halt to its "scientific whaling" in the Antarctic, AFP reported yesterday.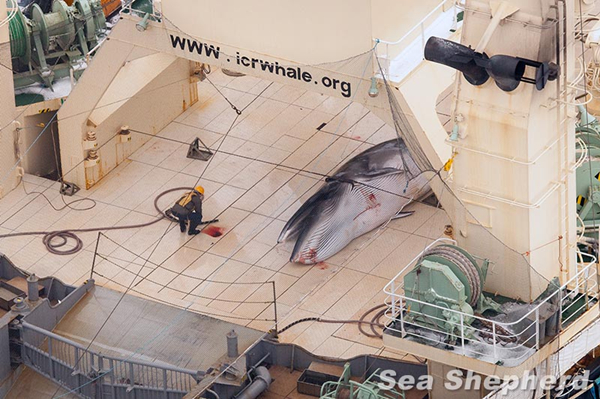 A protected minke whale, poached from the Southern Ocean Whale Sanctuary by the Japanese whaling fleet. [Photo/Sea Shepherd]
The Japanese whaling fleet that left the north-eastern fishing town of Ayukawa in April completed its mission last week, according to AFP. It was the first campaign since the international court of justice (ICJ) ruled in March that Japan's annual expedition to the Southern Ocean was a commercial activity masquerading as research.
The non-Antarctic hunt, which takes place in spring and autumn in coastal waters and in the north-western Pacific, is also classified as "scientific research" by Japan, but was not an issue in the ICJ case, which only addressed whaling in the Southern Ocean, AFP said.
In 1986, the International Whaling Commission (IWC) enacted a moratorium on all commercial whaling but allowed exceptions for research killings. Japan technically operates within this mandate.