To eat, or not to eat dog meat
China Daily By Xiao Lixin, June 13, 2014

Adjust font size: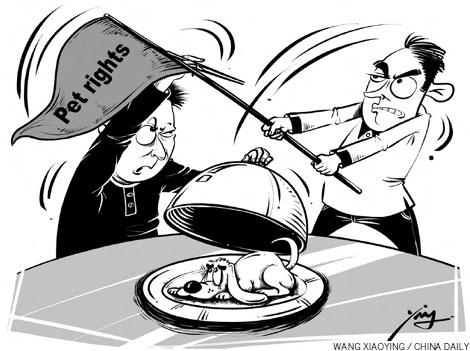 The controversial annual dog meat-eating festival will be held on the summer solstice (June 21) in Yulin, Guangxi Zhuang autonomous region, when more than 10,000 dogs are likely to be slaughtered and served as hotpots with litchis and strong liquor.
The festival has once again brought China's animal rights activists together, who, in collaboration with some well-known actors, have urged Yulin residents to stop eating dog meat and abolish the festival. This year, however, the confrontation between the groups opposed to and supporting the festival is far more intense, with one citing social and moral norms to prove its point and the other demanding respect for local customs.
In a joint appeal last year, 20 animal protection organizations such as the Research Center for Animal Protection of the Northwest University of Politics and Law and China Small Animal Protection Association have said 2013 revealed a "black chain" of trading in stolen pet and stray dogs to Yulin. Worse, they say, because of lack of strict quarantine inspection, much of the dog meat sold in the market could be infected with rabies or other diseases jeopardizing the health of consumers.
Recent years have seen the emergence of similar animal-related issues - for example, extraction of bear bile and protection of stray dogs and cats in communities. But despite the concerted efforts of animal rights activists, things have not always turned out to be their liking. Waves of protests and resistance have had a social impact, but in most cases they have been temporary with things returning to "normal" after a while, prompting people to wonder whether fundamentals exist to guarantee protection to animals or their struggles will simply end in fruitless quarrels.
The dog meat-eating festival in Yulin is only a local folk custom, without any official sanction, to celebrate the summer solstice. The controversy over the festival reveals the confrontation between traditional customs and the modern idea of animal protection. While defenders of local traditions want to continue them and enjoy the traditional local dishes, animal rights activists want festivals like Yulin to be banned because they believe dogs, as man's best friend, should not be killed for food. With such extremely opposite opinions, the two sides are unlikely to resolve their differences any time soon.
Perhaps they should learn from the example set by South Korea, a country that has a much longer dietary tradition of eating dog meat. In South Korea, people believe that dog meat helps ward off the effects of hot summer days, although the debate over whether South Koreans should continue eating dog meat continues to occupy public space.
Way back in 1988, when Seoul was about to host the Olympic Games, animal protection groups from some countries demanded that South Korea ban the practice of eating dog meat and even "threatened" to boycott the Olympics if such a measure was not taken. To strike a balance between South Koreans' love for dog meat and some foreign countries' and animal rights groups' demand for a ban, the South Korean government forced restaurants selling dog meat to shift from downtown to areas less likely to be frequented by foreigners visiting the country to watch the Olympics Games. And during the 2002 World Cup, which South Korea co-hosted with Japan, a large number of such restaurants in Seoul were either closed down or moved to the city's outskirts or other cities for good.
In China, owing to the legal vacuum on the protection of domestic (or non-wild) animals, banning the dog meat-eating festival will not be a good solution. It requires time to encourage Yulin residents to change their dietary habit. Animal rights activists should respect other people's choice of food in this vast country of more than 50 ethnic groups.
But it is also important for people who eat dog meat to understand animal rights activists' appeal. The local government in Yulin could use the South Korean example to at least control the number of dogs slaughtered on the summer solstice and minimize the negative social effects of the festival.