Fans' cup runneth over
China Daily by Yang Yang, June 13, 2014

Adjust font size:

Despite the national team failing to qualify, Chinese are pumped up for soccer, Yang Yang reports in Beijing.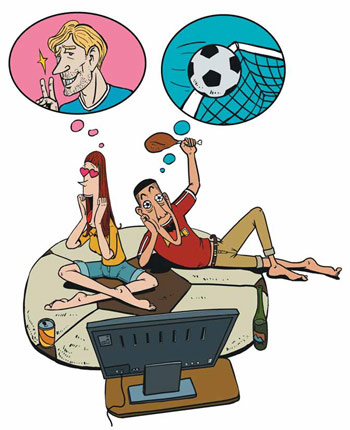 The 2014 FIFA World Cup has kicked off, making soccer-crazy China even crazier. The tournament, which is held every four years and is one of the world's biggest sporting events and money spinners, is ubiquitous. Soccer-related articles dominate the Internet, television, radio, newspapers and social networking sites, and the competition is the main topic of conversation in cafes, bars, offices and factories across the country.
While it's ultrafashionable to talk about soccer - after all, who doesn't love "the beautiful game", as it's known to billions across the globe - the sport's massive following in China is slightly baffling to non-aficionados. Although China is always at, or close to, the top of the medals tables at the Olympic Games, the country's national soccer team has been historically poor, and has only played in the group stages of the tournament once, way back in 2002
Although China was highly unlikely to progress to the later rounds that year - hardly surprising, given that the team played three games and didn't score a single goal - interest was at fever pitch. Even high schools, where students were under pressure just days ahead of the national university entrance exam, suspended classes so the youngsters, and, one suspects, their teachers, could watch the national team play on the biggest stage of them all.
Even sports that China excels at internationally, such as table tennis, badminton, diving and volleyball, are swamped by the attention lavished on soccer. The modern game officially began in England, but, according to some Chinese historians, an ancient version was played in China more than 2,000 years ago.
However, even in a country as obsessed as China, the streets suddenly seem to be even fuller of soccer fans than usual, irrespective of the national team's failure to qualify for this year's tournament and the 11-hour time difference with Brazil, which means fans will have to sit up all night to see their sporting idols. The World Cup is a huge, come-as-you-are party, during which the fans try their best to enjoy the games and never miss a chance to exercise a biting sense of humor.
Some people are even prepared to shrug off health concerns to watch the competition. On the morning of June 5, an 81-year-old man surnamed Lu, from Nanjing, Jiangsu province, blacked out in the street, due to low blood pressure. He refused to be hospitalized, though, because of the inconvenience of watching soccer from a hospital bed, according to Xinhua News Agency.
In Beijing, 32 subway stations on Line 4 were temporarily to be renamed after the countries in this year's competition, although the plan has been dropped to avoid confusion among passengers. In Hangzhou, Zhejiang province, the floors of the trains on one of the city's subway lines have been decorated to resemble soccer fields.
On the Internet, people have been making jokes about players, teams, and coaches, or sharing photos of handsome stars and predicting the possible winners of the tournament.
Sick notes
"I will try everything to watch the games I'm really interested in, such as the one on June 16, Germany against Portugal," Xue Mangmang, 28, said. The employee of a financial services company in Suqian, Jiangsu province, has been a die-hard fan since 1998 when he watched the final between France and Brazil.
"Some of my soccer-loving friends have been adjusting their body clocks so they can stay awake between midnight and 6 am, when the games will take place. I have to work during the day, but I think I'll be able to take naps at noon, which will be very helpful," he said.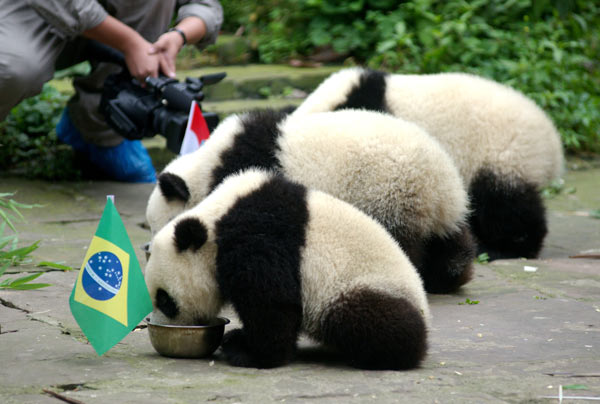 Three pandas 'predict' the winner of the opening match of the 2014 FIFA World Cup, which will feature Brazil and Croatia. The pandas made their choices by picking food from a selection of baskets at a breeding base in Sichuan province. [Photo/Xinhua]