Pollution Map APP Online Debuts
chinagate.cn, June 12, 2014

Adjust font size: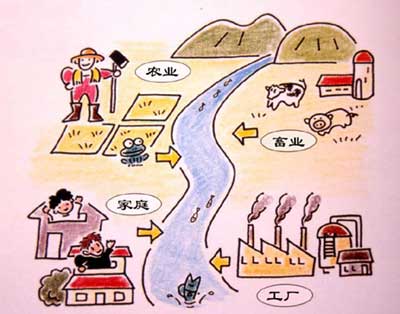 The Institute of Public and Environmental Affairs (IPE) and the Natural Resources Defense Council (NRDC) released the results of their 2013-2014 annual assessment of the pollution source information disclosure in key environmental protection cities (Pollution Information Transparency Index -- PITI), reflecting that environmental protection supervision and management information in those key cities still needs improvement, while on the other hand, breakthroughs have been achieved in disclosure of real-time pollution source date and of full environmental impact assessment reports.
This cycle of assessment highlighted four main areas of active improvement, include: Shandong, Zhejiang and several other provinces' online monitoring platforms are already essentially capable of hourly publication; Ningbo, Beijing and other key cities' daily monitoring information disclosure has begun trending toward systemization; 42 cities, including Beijing, Tianjin and Yancheng have begun to implement disclosure of full EIA reports; and Shandong, Hunan and other local environmental protection bureaus have begun using Weibo and other similar tools to interact with the public.
This round's assessment also revealed several deficiencies in environmental information disclosure, of which two are especially prominent: the first is that public participation in environmental impact assessments is difficult to implement, so environmental policies lack informed public participation; the second is that industrial emissions data is disclosure is very limited. These deficiencies have not only resulted in inadequacy of a majority of cities' level of pollution source information disclosure, but are also leading to a lack of confidence in corporations to the point of triggering mass incidents.
This is IPE's and NRDC's fifth consecutive year conducting a national-level assessment of the pollution source information disclosure situation in key cities.
Since a system of real-time pollution source information disclosure for key enterprises has been nationally implemented this year, Chinese environmental information disclosure policies have achieved groundbreaking improvements. Meanwhile, more stringent requirements have been set for cities and enterprises. In response to severe pollution circumstances, the two evaluating organizations have adjusted the PITI accordingly and applied higher standards when evaluating cities' performance in pollution information disclosure, thus causing a majority of cities to score considerably lower in this round of the assessment.
Regarding this advancement, the Director of NRDC's Environmental Law Project, Wang Yan, believes: "The upgrades in a majority of indices in this edition of PITI essentially already comply with international standards. In particular, real-time publication of pollution source information is already moving towards the world's forefront and for the first time will allow Chinese cities' pollution source information disclosure to be measured by advanced international standards, which in itself illustrates China's progress in environmental information disclosure."
While participating in the press conference, Beijing's Environmental Protection Bureau's officer Liu Zijian has demonstrated active support for public participation in environmental protection.
During the previous press conference for PITI, Alashan's SEE public welfare association and 25other social organizations' joint initiatives for full disclosure of pollution source information have brought about an active response from the government. And disclosure of real-time monitoring data of key enterprises has become regulatory mandates by the Ministry of Environmental Protection (MEP) .Disclosure of full EIA reports was also established as a requirement in the revised amendments of the Environmental Protection Law.
This round's assessment results revealed that 23 provinces, autonomous regions and municipalities have already established an integrated online platform for releasing monitoring information based on MEP's requirements. Of these provinces, Shandong, Zhejiang, Fujian, Jiangsu, Hebei and other developed areas in the eastern part of China have created platforms that work comparatively well, while the platforms of western provinces such as Inner Mongolia, Shaanxi, Xinjiang, Ningxia, and Guangxi have also essentially achieved working order.
IPE's Head Director Ma Jun believes this process is of great strategic significance: "Once records of excess polluters can immediately be made public, polluting enterprises will be under powerful supervision of the public, interference toward environmental protection from local governments will be effectively prevented, and the complications of environmental protection law enforcement that have long plagued China may possibly be overcome."
In order to provide assistance to the public in accessing online monitoring data, IPE has developed a "pollution map" app. Through this app for mobile phones, consumers can quickly and conveniently search data for 190 cities' air quality situations, while at the same time they can check and share real-time monitoring data about surrounding key sources of atmospheric pollution. On the day of the press conference, this real-time monitoring showed that there are as many as 370 large industrial companies currently producing excessive emissions.
Many cities' environmental protection bureaus expressed at the press conference that they will actively promote information disclosure and public participation. Of these, Shandong's Environmental Protection Bureau has already tightened local emissions standards, and has also proposed to take advantage of public monitoring as a means of pushing forward the local plan for reducing pollution emissions and managing regional smog.
During the conference, Shandong Environmental Protection Bureau's Zhang Qingwei revealed: "We have already reached a unanimous agreement with environmental groups, whereby it will be up to environmental groups to disseminate a list of excessive polluters. The Environmental Protection Bureau will then implement a deadline for repeated excessive polluters to control their emissions; through cooperation, we will promote these industries to all propose reform programs and timetables in less than half a year."
Due to the twelfth five-year plan, changes have occurred in the list of key environmental protection cities, so IPE and NRDC added several cities to the PITI assessment to evaluate a total of 120 cities. The environmental organizations Green Xiaoxiang, Green Anhui, Green Shandong, and Green Fujian also conducted an assessment of 32 local cities. At the same time, considering the current high-speed advancement and implementation of legislation concerning environmental information disclosure, IPE and NRDC have decided to incorporate assessment data from 2013 until the end of June 2014 in this assessment cycle's online real-time monitoring portion, while the EIA portion integrates assessment data from before March 10, 2014.
Of the 120cities, Ningbo, Beijing, Qingdao, Zhenjiang, and Shanghai ranked as the top five, while Datong, Yangquan, Yuxi, Jilin and Shaoguan comprised the last five spots.
A series of important regulations and policies developed recently reflect that the fundamental role of environmental information disclosure is acknowledged by all walks of life. On April 24, 2014, new amendments to China's Environmental Protection Law were approved, including a special chapter on "Information Disclosure and Public Participation". In May 2014, the Ministry of Environmental Protection issued a "Guidance Opinion on Promoting Public Participation in Environmental Protection" (Guidance Opinion), stating that: "Promote environmental information disclosure. Environmental information disclosure and transparency is a prerequisite for public participation, so except for environmental information which shall not be disclosed in accordance with laws and regulations, environmental protection departments at all levels should proactively disclose environmental information. "
The Guidance Opinion requires that relevant governmental departments should: "Improve environmental information release mechanism, provide detailed information disclosure items, and clarify what information is obliged to be disclosed. Use official information release platforms such as websites and Weibo of governments and their competent environmental protection departments, newspaper, journals and mobile phone newspaper, and use channels convenient for the public to access, such as press conferences, media launches, etc., to release environmental management information and environmental quality information in a timely, accurate, and comprehensive manner.
The Guidance Opinion also demands to: "Enhance establishment of press spokesmen system, to response the public's concern on hot topics in environmental protection in a timely manner. Proactively promote enterprises' environmental information disclosure, regularly release pollutant emission data of key enterprises, and supervise enterprises on disclosure of pollution emission self-monitoring information. Carry out assessment on enterprises' environmental credit rating, and publish assessment results regularly."
Ruan Qingyuan, a project director of IPE, believes that:"This cycle of the evaluation is based on new regulations and internationally-accepted methods, aiming to establish a new baseline for environmental information disclosure. We hope that this becomes a new starting point to substantially push forward the future of information disclosure."