Yuan Longping shares his dream of hybrid rice
china.org.cn / chinagate.cn by Zhang Junmian, May 30, 2014

Adjust font size:

When Yuan Longping finished his 15-minute-long keynote speech at the ISF World Seed Congress 2014, all delegates from across the world gave him a standing ovation to salute the renowned Chinese agriculturalist.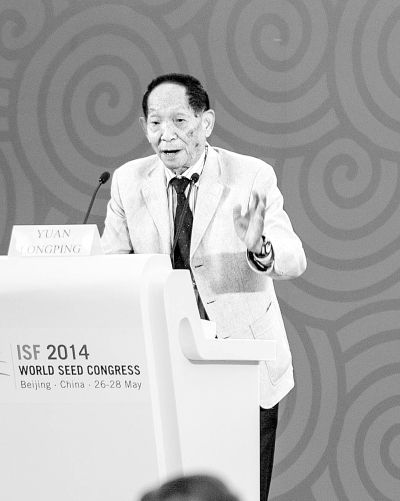 Chinese agriculturalist Yuan Longping delivers a speech at a session of the ISF World Seed Congress 2014 in Beijing on May 26, 2014. [File photo]
Yuan, who developed the world's first hybrid rice back in the 1970s, was invited to talk about China's hybrid rice R&D, varieties advantages and application in the world at a session of the ISF Breeders Committee in Beijing on May 26.
Yuan said that he has two dreams when taking on an interview after the session.
"The first dream I once held, was for super rice to grow taller than sorghum, with stems each ear as long as a broom, and each grain as big as a peanut," Yuan said. "Then I could actually enjoy the cool underneath the rice crops."
Yuan promoted China's hybrid rice to the world. He continued, "My second dream is that hybrid rice can be grown all over the world."
Yuan explains: "There is more than 2.2 billion mu [some 133 million ha] of paddy field in the world. If one half can be planted with China's hybrid rice varieties, the increased output can feed up to 500 million people."
Yuan, known as China's "father of hybrid rice," has greatly changed the world with his little seeds, which are now grown in dozens of countries, on a total of 5.2 million ha. In Vietnam, the yield per mu is 420 kilograms, 120 kilograms more than the local species. In the United States, the hybrid rice is grown on 6 million mu (some half a million ha), yielding over 20 percent more than local species.
Just a few days ago, super rice breed Longliangyou 1813, developed under Yuan's guidance, harvested 937.9 kilograms per mu (0.07 ha) in the pilot fields of Sanya, Hainan Province. Theoretically, its unit yield can reach up to about 1,082 kilograms.
The 84-year-old man, who has worked in the field for more than 50 years with the dream of helping more people get enough to eat, felt greatly satisfied. He said, "Given the situation, it's possible to fulfill the goal of yielding 1,000 kilograms per mu this year, or no later than 2015."
"In theory, there is a potential for increasing unit output up to 1,400 kilograms," Yuan said.
When talking about how to realize his second dream, Yuan stressed, "It's imperative to develop quality rice strains and help them go global."
Yuan noted, "There should be more exchanges with the technically-advanced international seed industry."
"The country should also lend competitive seed companies more support such as rolling out preferential policies for them and encourage them to strengthen themselves."
"Only this way can Chinese seeds better go global," Yuan said.