China's most populous province relaxes one-child policy
Xinhua, May 30, 2014

Adjust font size: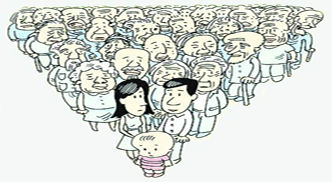 China's most populous province of Henan on Thursday relaxed its family planning policy to allow couples to have a second baby if either parent is an only child.
Henan, which has a population of 106 million, became the 25th among a total of 31 provinces, autonomous regions and municipalities on the mainland to relax the birth policy.
An amendment to the province's Population and Family Planning Regulations was passed by the Standing Committee of the Henan Provincial People's Congress, the local legislative body, on Thursday.
Under the new policy, the province is expected to see an additional 50,000 to 80,000 newborns each year in the next few years, said Wang Liying, director of the policy and regulation department under the provincial health and family planning commission.
The relaxation will not affect population control targets for the five-year period to 2015, said Wang.
China's family planning policy, put in place in the late 1970s, was designed to curb population growth.
The relaxation came as the country is coping with a declining labor force and an aging population.