Rail routes to fuel exports growth
China Daily, May 28, 2014

Adjust font size:

Eager to enhance its developing strength, the Xinjiang Uygur autonomous region plans to build more international rail routes on the Silk Road economic belt.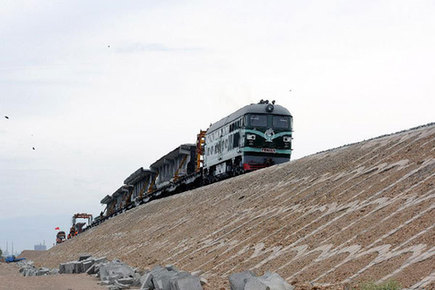 A train transports rail laying materials for the construction of Hami-Lop Nur railway line in northwest China's Xinjiang Uygur Autonomous Region, June 19, 2012. [Xinhua]
The plans are part of a bid to expand exports as Xinjiang races to catch up with other established competitors in China's western and central regions.
"Regional connectivity is in all countries' greatest interests on the Silk Road economic belt," said Peng Ji, chief economist of Xinjiang's economic and information commission.
"We are planning to offer two regular block train services this year. The first train will depart from Urumqi to Mersin in southern Turkey via Kazakhstan, Turkmenistan and Iran this year," said Peng. "Another train service to Moscow will be launched by the end of this year."
With shorter transport times and lower freight costs, more than a dozen Chinese cities have discovered that international rail lines linking many parts of China to Central Asia and Europe can help improve regional connectivity and trade on the Eurasian Land Bridge and today's Silk Road Economic Belt.
Since 2010, major Chinese cities, including Chengdu, Chongqing, Xi'an, Zhengzhou, Wuhan and Yiwu have launched weekly or monthly block train services to European and Central Asian destinations. This is part of China's effort to turn its inland resources and labor-rich cities into international trade hubs.
Because Xinjiang borders eight countries and is geographically much closer to Central Asia and Europe than other parts of China, the region is capable of establishing a "flexible rail transportation network throughout the Silk Road Economic Belt, to further stimulate Xinjiang's economic growth and create more jobs", Peng said.
Countries in Central Asia and Eastern Europe, including Kazakhstan, Turkmenistan, Poland and Belarus, are also willing to build new platforms for broader trade as well as cultural and technological cooperation with China and other countries along the route.
The opportunities involve transportation networks, housing and manufacturing facilities, as these countries strive to achieve their goals in infrastructure, urbanization and industrialization.
Peng said people living in Xinjiang and Central Asia have many similarities in diet, language, religion and traditions.
This advantage will help Xinjiang upgrade its logistics services and improve land telecommunications, as well as attract European, South Korean and Japanese companies that want to position their manufacturing facilities and sales networks closer to Central Asian markets.
With many manufacturing companies - including China National Cereals, Oils and Foodstuffs Corp, SANY Group Co and carmaker Shanghai Volkswagen - moving their facilities to Xinjiang, the region has increased its investment in high-speed rail projects to accelerate the flow of people and goods. A new subway system is also being built in Urumqi.
Wang Yongxuan, deputy director of Xinjiang's transport department, said that unlike other major Chinese cities that run their international freight cargo services independently, Xinjiang's international rail cargo services are working with China Railway Co and China Railway Container Transport Co to ensure quality service.
Xinjiang currently operates a routine rail freight service to Almaty in Kazakhstan. The service was launched in March and runs twice a week. It runs even three times a week when trade volume rises.
Xinjiang mainly loads construction materials, vehicle parts, industrial yarn, garments and construction machinery into containers en route to Almaty.
"The cargo train takes five days to make the 1,330-kilometer trip, but that's more than seven times as fast as maritime transport," Wang said.
"Xinjiang is planning another long-distance service to Hamburg in Germany via Kazakhstan, Russia, Belarus and Poland next year."
Luo Renjian, a researcher at the Institute of Transportation Research of the National Development and Reform Commission, said: "These moves will embody tangible efforts linking regional centers such as Moscow or Astana, and developing new growth hubs including Lodz in Poland and Almaty, and Novosibirsk in Siberia on the way to Europe."
He added that from a long-term perspective, the new rail routes will fully support trade, private investment, industrial productivity and the service industry in this massive regional market.