Click profit online in China
China Daily, May 26, 2014

Adjust font size:

Bustling e-commerce market creates new growth opportunities for overseas companies in China.

British retailer Burberry Group would never have imagined that its scarves and trench coats would be sold from virtual stores in China. But the iconic luxury brand and other biggies like Marks & Spencer Plc, Mothercare Plc, Nike Inc, Levi's Strauss & Co and Sony are increasingly finding that having an online presence is essential for continued success in China.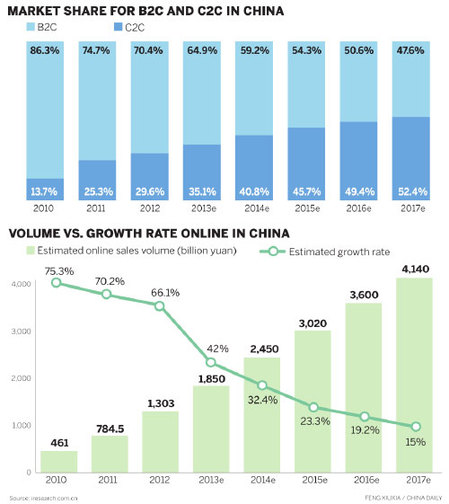 Click profit online in China [China Daily] 
For most of these companies, the online attraction is understandable: surfing the Internet is not only the favorite leisure activity for young people in China but also the main influencer of purchasing decisions. Physical risks and costs associated with setting up stores have also prompted many of these companies to build their online presence.
In April, Burberry opened a virtual store on Tmall, the biggest business-to-customer site in China, and now offers a wide array of items, ranging from woolen scarves priced at 4,000 yuan ($640) to high-end trench coats called Heritage, priced at 17,500 yuan.
Though Burberry is the first pure luxury brand to join Tmall, the platform has already attracted more than 70,000 sellers. British fast-fashion retailer ASOS has also established a store on Tmall to supplement its existing outlet in China. While it's still too early to gauge whether Burberry would reap gains in the long run, there is no doubting the huge growth potential of China's e-commerce market.
Growth rates typically represent the true appeal of any industry. The e-commerce industry has been no exception and has clocked consistent growth rates of over 70 percent in China since 2006.
Last year, Chinese shoppers purchased 1.8 trillion yuan worth of goods online, which means that 7.9 percent of the country's total retail trade was conducted over the Internet.
Industry experts, however, say that Chinese e-commerce platforms have played a big role in shaping consumer preferences. They point out that though e-commerce sites such as Taobao and Tmall were initially used by Chinese consumers to leverage pricing advantages, the platforms have now become more sophisticated. E-commerce platforms are focusing more on branding and product qualities and this has benefited multinational firms, they say.
Carrie Yu, a partner specializing in retail and consumer practice with the global consultancy firm PriceWaterhouseCoopers in Hong Kong, says it's an opportune time for tapping the e-commerce potential of China.
"China is moving toward a consumption economy, and more and more of its citizens are becoming affluent. They want to spend to indulge themselves," Yu says, adding that unlike some people who have reached a certain age and regard savings as a virtue, "young Chinese love to spend, as they want to have a comfortable life rather than just saving money".
Yu says China's love affair with Apple products is the best example of this trend. "Rather than smartphones they are street phones in China, especially among the younger generation. Obviously, price is not an issue here, as the higher prices have not deterred purchases. It is not uncommon to find many young Chinese who have spent more than a month's salary to acquire the latest iPhone from Apple."
That, experts say, is also the driving force for the e-commerce industry in China. Consumption is no longer determined by prices and is more a combination of qualities and services, they say. Adding further credence to these statements are reports that China overtook the US to become the biggest e-commerce market in the world last year.
Though the e-commerce market is unlikely to post the growth rates of over 100 percent it recorded between 2006 and 2010, it still has enormous potential due to the huge size of the market. China's real consumption in 2013 was 36.5 percent of total GDP, which is significantly lower than that of other countries such as the United States, which had a consumption penetration rate of 66.8 percent in 2013, according to Euromonitor International.
Moreover, only about half of China's 618 million Internet users are online shoppers. With the increasing number of Internet users and the growing number of people making purchases online, the online shopping market in China is likely to remain the world's largest forever, simply because of the large number of people who shop online, says Egidio Zarrella, partner for clients and innovation consulting services with consultancy firm KPMG China.
"Even though China's e-commerce market is big, it accounts for just 8 percent of the global retail market. In the next 10 years, it would account for over 50 percent of the retail market," says Zarrella, adding that Chinese people are becoming more techsavvy and are enjoying purchasing goods online.
According to research Zarrella did in 2013, a large number of Chinese people have three or four mobile devices compared with one or two that people in Europe and the US have.
A recent PwC Global Total Retail Survey of 15,000 online respondents from 15 territories found that the Chinese respondents were more active in online shopping compared to their global counterparts.
About 62 percent of the Chinese respondents said they shop online every week, compared with just 21 percent of global respondents. In addition, these people more often use social media and also make purchases through mobile devices.
The Chinese government has seen e-commerce as the catalyst that will help it transition from an export-oriented society to one that is more driven by domestic purchases.
According to studies conducted by the Chinese Academy of Social Sciences, online shopping, which directly generates more than 10 million jobs, will drive about 5.48 percent of China's economic growth by 2020.
"It may seem like a small number, but it can have a strong influence on the economy. Not only will the size of the economy increase, but the economic structure can also benefit from the e-influence," says Li Yongjian, head of Information and e-Business Studies at the National Academy of Economic Strategy at the Beijing-based academy.
The conveniences associated with online shopping also help in narrowing the purchasing gap between urban and rural China. "People have access to the same products online, be it in first-tier cities or fourth-tier cities," Li says.
The online purchasing power of small cities or even counties in China is something that cannot be ignored for companies looking to carve a niche in China. Alipay, the e-payment arm of Alibaba, found that residents of Yiwu, Zhejiang (home to a major wholesale market for appliances, accessories and toys) spent an average of 40,000 yuan online in 2013, more than twice the amount for Beijing.
On Alipay's top 100 list of small cities and counties, 36 out of the 100 localities were in Zhejiang. Jiangsu province ranked second, with 27 small cities, followed by Fujian with 13.
Residents of the top 100 small cities and counties shopped online eight times on average last year. Those who spent more than 1 million yuan in 2013 mostly came from Yiwu and Cangnan county in Zhejiang, as well as Changshu, a city in Jiangsu province.
The ability to reach out to more customers in remote areas of China, where stores are few and the costs of building a physical presence are steep, makes e-commerce a popular choice for Western companies.
Many governments and official organizations in the West are aware of the importance of e-commerce in China. British Prime Minister David Cameron's closed-door meeting with Alibaba founder Jack Ma last year further reinforced the sector's importance in China for overseas companies, particularly those from the UK.
Alibaba's Tmall has already teamed up with several overseas government agencies on special promotions allowing Chinese consumers to buy fresh fruits and other food online, direct from the source.
In February, it successfully sold tulips online with the Netherlands Consulate-General. In early May, it paired with New Zealand Trade and Enterprise, the country's trade development agency, to ship more than 50,000 pre-ordered oysters and mussels to China within 72 hours of harvesting.
Some experts say that Chinese esteem foreign brands more than local ones. Carrie Yu of PwC Hong Kong says that as consumers in China become more sophisticated, they will increasingly value quality, brand and after-sales service, which extends to fairness in doing business. "This is the big advantage for foreign brands," she says.
However, Zarrella of KPMG China, says that though Chinese people like high-quality products, it does not necessarily mean that they are willing to pay a premium for that.
"They do not like cheap goods anymore, but they do like to bargain. And they tend to do most of their research online to see where is the best place to buy it," he says.
The hunger for high-quality products with reasonable prices has created a new business called Daigou, which means buying via overseas contacts through Taobao or other professional buyer agencies and websites. Daigou agents charge a commission and mail the purchased goods across borders.
The top items on Daigou lists are baby formula and luxury goods. A China luxury goods market study released by Bain & Co in December 2013 found nearly 60 percent of the 1,400 customers interviewed had made at least some luxury purchases through the Daigou market.
Statistics from the China E-commerce Research Center showed that the online Daigou market amounted to 74.4 billion yuan in 2013. The center forecast that the market would exceed 100 billion yuan in 2014. The booming Daigou business is also part of the reason why Alibaba chose to launch an independent website called Tmall Global in February to allow overseas brands and merchants to sell directly to Chinese online shoppers.