Psychological support program likely to expand
China Daily, May 26, 2014

Adjust font size: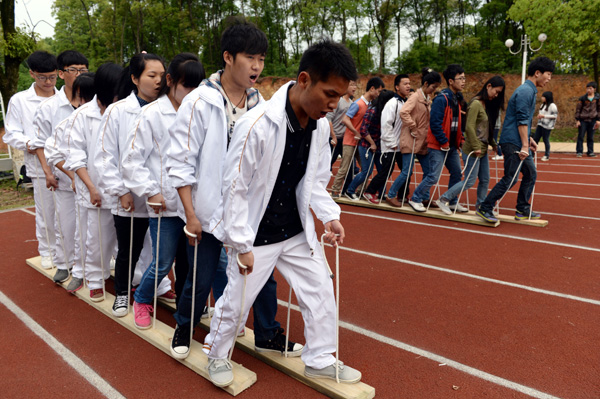 Freshman students at East China Jiaotong University receive expanded training in April in Nanchang, Jiangxi province. [Photo/Xinhua]
A psychological support program for college students is expected to expand to all Shanghai universities, to better provide mental care for the group.
A pilot program has been running at the city's Tongji University.
Under the program, information about students' psychological conditions and potential need for mental health services are collected when they register for study.
"We have carried out a series of psychological services for students over recent years," said Zhao Xudong, a professor at Tongji University and a doctor with the Department of Psychosomatic Medicine of Shanghai East Hospital. "But this program allowed us to more effectively identify which students are in need of psychological care.
"It has produced good results," Zhao said, adding that the pilot program will end in the coming months, and he hopes it will then expand to other colleges in the city.
In recent years, psychological issues among young people have drawn much attention across the country.
In April 2013, medical school student Lin Senhao, 28, added a highly toxic chemical to the water dispenser in the dorm room he shared with Huang Yang, who became sick after drinking the water and died 15 days later.
Lin was sentenced to death by the Shanghai No 2 Intermediate People's Court earlier this year.
In 2011, a 24-year-old man named Wang Jiajing stabbed his mother at Shanghai's Pudong International Airport after she told him she would no longer pay for his studies in Japan. Wang left his mother lying in a pool of blood after stabbing her in the head, arms, abdomen and back.
In addition, suicides of young students have frequently appeared in media reports. Figures in 1999 showed that about 3,000 college students died of unnatural causes, of which many were attributed to suicide.
According to a survey by a college in Hubei, 295 of more than 4,000 freshmen polled said they have mental health issues, and 51 said they have serious depression or mental illness.
Another survey conducted earlier by the China Population Communication Center suggested that the mental health of China's youths is on the decline, with 60 percent of college students feeling isolated and 80 percent reporting feeling social injustice.
"Under China's education system, students are often told to attain good academic performance in schools, by teachers and parents. Psychological care has long been absent in schools and family," said education expert Xiong Bingqi, who is also the vice-president of the 21st Century Education Research Institute.
"Overemphasis on academic performance and a lack of education on the value of life make young students become fragile," said Xu Kaiwen, an associate professor of clinical psychology at Peking University. "When they meet difficulties, they have no idea how to cope and become depressed. And sometimes, they go to extremes."
Xu is also the supervisor of the university's Counseling and Psychotherapy Center, a free service set up to help students deal with psychological issues. Solving psychological problems among students needs effort from schools, family members and society, and it's important to establish effective communication among teachers, parents and students, Xu said.