Social security lacking in online jobs
China Daily, May 26, 2014

Adjust font size:

Online businesses play a major role in employment, but few workers in the sector are signed up for social security, a study showed.

The study, jointly conducted by the Ministry of Human Resources and Social Security and the China Association for Employment Promotion, showed that about 9.62 million people nationwide work at online stores. These stores need about 1.1 million additional employees, the study showed.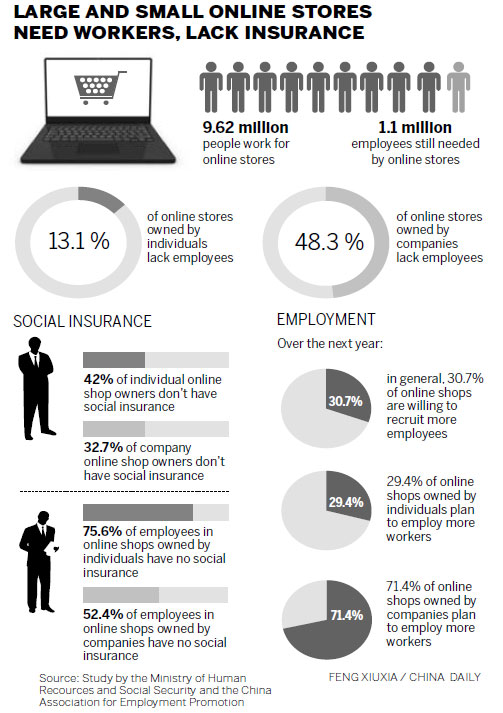 The study looked at online shops in various industries across the nation, including clothing, cosmetics and food, through random sampling in February.
Each online store employs about 2.55 people on average, the study showed. But 13.1 percent of online stores run by individuals said they are short of workers, and 48.3 percent of stores run by enterprises said they face a labor shortage. In general, each online store is short 2.3 employees.
More than 30 percent of the online shops sampled plan to hire more workers over the next year, the report said. Each store planned to hire three people on average.
Fan Hui, 29, an online store owner who sells antiques and jewelry from Beijing, said: "In the beginning of 2012, after resigning from a private company, I opened an online store with one of my friends, who was living in Paris. She helped me to buy products there and mailed them to customers in the Chinese market."
Business has been so good that Fan has teamed with another partner in the US to expand the store.
She said the monthly turnover from her business can reach tens of thousands of yuan (thousands of dollars) and most of her target customers are high-income earners.
"There are wealthy ladies in the Yangtze River Delta area who like classical European-style antiques, so they always buy my products no matter how expensive they are," she said.
Fan said she is swamped with work every day.
"I need to be on the Internet almost 24 hours a day, paying close attention to the demands of buyers and answering their questions online," she said.
Although Fan has no employees at present, she said she will consider recruiting in the near future.
Shelly Hu, 28, started working for a large online clothing shop in Hangzhou, the capital of Zhejiang province, after graduating from college in 2011.
"Although I earned about 3,000 yuan each month, I was quite satisfied with my work," said Hu, who resigned after working at the online store for one year and is now in the financial industry.
The store employed about 100 people and the number had been increasing after she joined the company, she said.
Hu believes e-commerce is very promising as more customers choose to shop online, which is convenient and efficient, and online shop owners have a high demand for talented salespeople.
The country has put in place some preferential policies to attract and encourage graduates to work online. Premier Li Keqiang said at the State Council executive meeting on April 30 that university graduates who open online stores can enjoy small-sum guaranteed loans and finance discount policies.
However, the joint study also showed gaps in social security coverage in the sector.
More than 75 percent of employees in online shops owned by individuals do not have any social insurance.
Similarly, more than 40 percent of individual shop owners and about 30 percent of enterprise shop owners do not have social insurance either, the report showed.
Zhang Jiawei, 29, from Shanghai, opened an online shop selling mobile phone chargers at the beginning of the year.
He did not sign up for social insurance and does not feel there is a need to do so.
"The scale of my business is small, and the operating conditions are not ideal. Besides, I don't have employees," he said.
Chen Yu, the vice-president of the China Association for Employment Promotion, said "university graduates have many opportunities in online employment and there is high demand in e-commerce for talented professionals".
"However, many graduates still prefer to work as civil servants or in a State-owned enterprise, which is very stable," Chen said.
Chen said the authorities should encourage employers to include more employees of online stores in the social security system as soon as possible, so they can enjoy pension and medical insurance benefits.