Aquatic animals vital to river eco-system
china.org.cn / chinagate.cn by Jiao Meng, May 22, 2014

Adjust font size: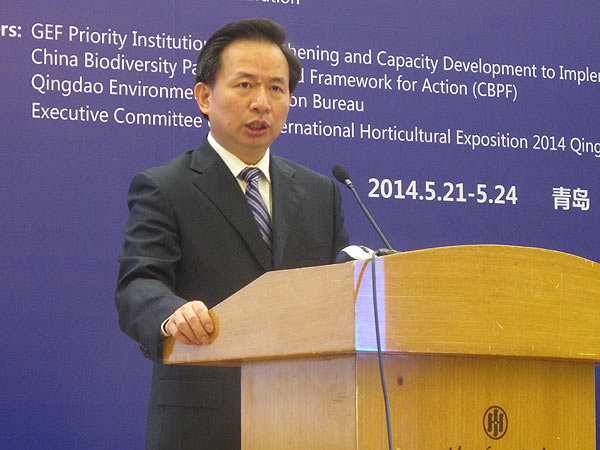 Li Ganjie, vice minister of the Ministry of Environmental Protection, reveals the resluts of "biological-cards in 10 major rivers of China" on Tuesday in Qingdao. [Jiao Meng / Chinagate.cn]
Finless porpoise, dace and another eight aquatic animals are set to become "business cards" of China's 10 major rivers, as was revealed during a press conference on Tuesday in Qingdao of Shandong Province.
The campaign for the "biological-cards in 10 major rivers of China" was co-organized by the Ministry of Environmental Protection (MEP) , Ministry of Water Resources and Ministry of Agriculture and conducted by the All-China Environment Federation. It aimed to invite people from all walks of life to rethink the relationship between mankind and rivers, as well as raise the public's awareness of biodiversity in their hometown.
The jury nominated three aquatic creatures for each river for online voting, including the Yangtze River, Yellow River, Heilongjiang River, Huai River, Liao River, Yarlung Zangbo River, Lancang River, Nujiang River and Ertix River. It has received over 250,000 online ballots from 22 provinces and autonomous regions in two months.
Jiang Zuofa, a researcher of Heilongjiang Fisheries Research Institute, Chinese Academy of Fisheries Sciences, also a jury member, explained why the populations of some aquatic creatures were declining in terms of numbers, ages, distributions and qualities. "Besides water contamination, human activities such as water conservancy project, waterway construction and overfishing in recent years have intensified this trend," he said.
Bai Chengshou, vice director of Department of Nature and Ecology Conservation of MEP, believed it's only the first step to increase the public's recognition of aquatic creature conservation. "China needs to improve its laws and rules to protect wild animals, enhance monitoring and regulations to stop any illegal activities of undermining ecosystems in rivers. Also, natural conservation areas should be set up to protect rare and endangered species and those with important economic values," he concluded.