The taxi booking app bias
china.org.cn / chinagate.cn by Mitchell Blatt, May 22, 2014

Adjust font size:

It's late at night, it's raining outside, the wind is blowing hard, and you need to get home. If you have a taxi booking app like Kuaidi or Didi Da Che, you could book a taxi quickly and stay out of the rain. That's the promise of the smartphone taxi-booking industry.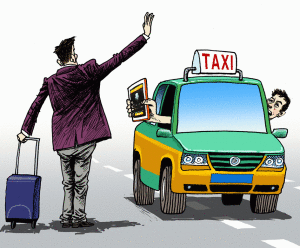 But that promise ignores much of the public. What if you are waiting outside in the pouring rain trying to hail a cab on the street? Taxi booking apps could make it easier for smartphone users to book a cab at the expense of others.
In Shanghai, there were cases of taxi drivers ignoring people hailing cabs on the street in order to focus instead on picking up app users. In response, Shanghai regulators limited the use of the app during peak hours.
Part of the problem is that the apps have offered big subsidies to users and drivers, disrupting the market. In January, Kuaidi and Didi, taxi-booking apps owned by Alibaba and Tencent respectively, were offering 10 RMB rebates to users who paid with their e-payment system and 10 RMB bonuses to drivers.
Since then, the companies have cut the bonuses, but even if they didn't offer any bonuses, their apps do make it harder to hail a cab on the street. If a driver has a confirmed booking, he isn't going to stop on his way to pick up passengers on the curb.
Passengers hailing on the street should have the same rights to take a cab as people using the app. Taxis are part of the public transportation environment, and public transportation serves all of the public.
Taxis are regulated by local governments in order to make sure they serve the public's interest. Regulations protect the stability of the taxi industry as well as the public. For example, fixed prices protect the customers from price gouging, but they also protect the taxi companies from having rival companies undercut them and create downward bidding wars. To operate in this regulated market, taxi companies have to uphold their side of the bargain while they also receive benefits.