40th anniversary of Sino-German scientific co-ops marked
chinagate.cn by Jiao Meng, May 15, 2014

Adjust font size: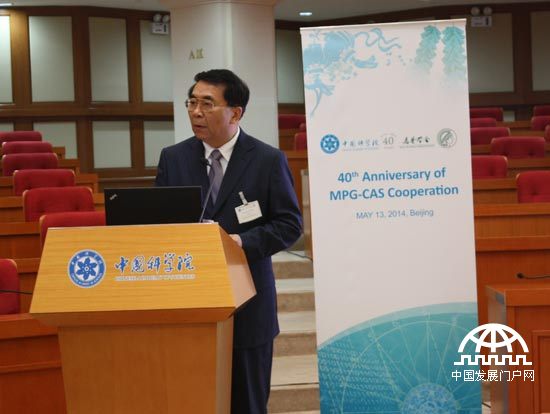 Bai Chunli, head of China Academy of Science speaks at a ceremony marking the 40th anniversary of CAS-MPG cooperation Tuesday in Beijing. [Wang Zhenhong / Chinagate.cn]
The 40th anniversary of collaboration of Chinese Academy of Science (CAS) and Max Planck Society (MPG), the two top science institutions from China and Germany, was marked Tuesday in Beijing.
Bai Chunli, head of CAS introduced the fruits of these two organizations in the past 40 years. The two institutions have jointly trained a large number of excellent researchers in a wide range of key frontier areas of research, such as astronomy, life sciences, space science, and earth science, and made important scientific achievements. These researchers have later played significant roles in leading the development of new scientific disciplines in China and in further enhancing the cooperation between China and Germany.
"A variety of joint initiatives have developed, such as Guest laboratory, Research Groups, Partner Groups, Institute for Advanced Study, Partner Institute for Computational Biology, Joint Training Program, Exploratory Round Table Conference (ERTC), and Junma Talent Program," Bai said.
"Under this partnership, the Academy has trained over 250 doctors through joint training programs with the German institution," he explained.
In 1974, the first visit by Max Planck Society to China Academy of Science, headed by Former President Prof. Lüst, kicked off 40 years of extensive collaboration between the two national science institutions.