Bird with broken leg hatches eggs
china.org.cn / chinagate.cn by Chen Xia, May 15, 2014

Adjust font size:

A bird in northeast China touched the heart of many people when it tried to hatch eggs on the top of a tree despite severe leg injuries, the Shenyang Evening News reported.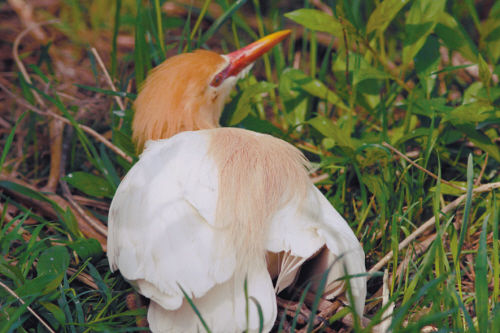 A severely injured cattle egret tries to fly up a tree to hatch its eggs. [Photo/nen.com.cn]
A female cattle egret, rarely seen in cold areas, was found tied up by thin threads upside down some five or six meters up a tree on an island in Liaozhong County, Liaoning Province at the weekend.
It took Zhang Haibo, an amateur bird photographer, more than 40 minutes to save the bird. "It was more dead than alive, and only its eyes were moving slightly," Zhang said.
After untying the bird, Zhang gave it water and worms, and built a shelter for it to rest. However, a few minutes later, the bird hopped and fluttered up onto a tree despite her leg injuries.
Zhang was curious about what the bird was up to, and when he found the bird was trying to continue to hatch its eggs, he was deeply moved, "No matter whether it is bird or a human being, maternal love is the purest and most touching thing."
Zhang is among a group of bird lovers who spend all of their spare time observing and taking pictures of birds in the wild.
The cattle egret is a small, stocky, white wading bird. It is a species of heron usually found in the tropics, subtropics and warm temperate zones. It was listed in the IUCN Red List of Threatened Species in 2012.