China sets up organ for income distribution reform
Xinhua, May 14, 2014

Adjust font size:

The State Council, China's cabinet, said on Wednesday that it has approved the establishment of an inter-ministry joint conference mechanism to coordinate income distribution reform.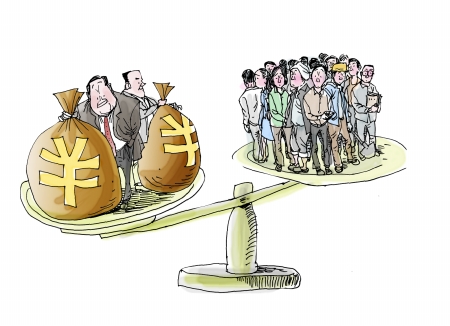 The mechanism, led by the National Development and Reform Commission (NDRC), the top economic planning body, includes the ministries of education, science and technology, public security, civil affairs, finance, human resources and social security, according to a statement on the website of the central government.
Other ministries or departments in charge of land and resources, taxation, housing, state-owned assets supervision and administration are also members of the regime, according to the statement.
The joint conference, chaired by head of the NDRC, will be tasked with coordinating all work in deepening income distribution reform, such as in conducting policy studies, making policies and reform plans, and coordinating ministries involved in the reform.
The organ is also equipped with the power to monitor, track, assess and review the process of the reform before reporting to the State Council.
The establishment of the organ is widely seen as a boost to the reform which is complicated and involves a wide range of government departments.
The statement quoted an unnamed official of the NDRC as saying that the joint conference regime was set up to implement related principles set by party leaders at the Third Plenary Session of the 18th Communist Party of China (CPC) Central Committee in November.
China will enhance regulation of income secondary distribution through taxation and focus on increasing the share of work remuneration in primary distribution, according to a key document adopted by the plenary session.
The joint conference would also carry out a central government guideline, published in February 2013, to reform income distribution mechanisms amid growing public concern over the widening wealth gap.
It has been a key policy objective for the central government to step up reforms in the income distribution system to narrow the wealth gap and achieve common prosperity.
The National Bureau of Statistics reported in January 2013 that in 2012 China's Gini coefficient, a widely used measure of income distribution, was 0.474, in which zero equals perfect equality.