WB suggests to enhance ICT access for rural transformation
chinagate.cn, May 12, 2014

Adjust font size: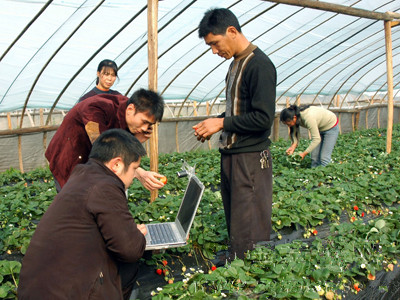 According to a new World Bank report, improved coordination and inclusion mechanisms can accelerate ICT usage in Chinese villages and spur transformation of the rural countryside.
The report, titled Information & Communications in the Chinese Countryside: A Study of Three Provinces, offers central and local government policymakers recommendations for enhancing rural informatization. Building on the experience of rural ICT initiatives implemented to date and incorporating international best practice, the report identifies several steps China could consider for rural informatization to achieve wider inclusion and higher impact with economies of scale and lower investment costs:
• A more coordinated approach. Similar telecenter, e-commerce, and mobile phone information systems developed by each province result in duplication of resources. This could be remedied through improved coordination by the central government with the aim of scaling up and standardizing common applications and services. In that respect, the government might consider creating a consultative committee consisting of key ministries involved in rural informatization to be responsible for overall coordination.
• Demand stimulation. Demand for ICT services in rural areas could be increased through more inclusive applications and services to enrich the quality of life all rural citizens. Computer training needs to be expanded particularly for older people and women.Ongoing outreach campaigns such as open days, competitions, and marketing at local gatherings should be developed to raise awareness of rural ICT programs. Successful impacts should also be demonstrated so that villagers can see the concrete benefits of ICT use.
• Improved monitoring and evaluation. One of the reasons for duplicate systems across provinces is the shortage of information regarding the outcomes of various programs. Data on the results of rural ICT interventions should be collected, compiled, analyzed, and disseminated on a regular basis, and should be used to inform policy decision making. Users and nonusers of the various programs should be surveyed both ex ante and ex post to generate credible evidence regarding impacts.
• Stimulating innovation. Public Internet access facilities available at telecenters, public libraries and library-like institutions should be leveraged to become hubs of village innovation through networking rural businesses and communities. This includes developing linkages with international and domestic firms for ICT-enabled contract work. The use of e-commerce and social networking platforms by small business should be fostered in order to improve productivity and expand access to domestic and global markets.
• Focus on sustainability. There are several practices to achieve greater long-term sustainability for rural ICT interventions. This includes making greater use of partnerships and shifting the obligations of telecommunications operators from infrastructure deployment to operations. Libraries, in particular, are logical partners for rural informatization with their community-facing infrastructure. Public-private partnerships should be more broadly utilized for content and applications to leverage the expertise of China's Internet companies. Income-generating services could be incorporated in public Internet access facilities to defray costs and increase demand.
• Complementarity of access devices and facilities. ICT access from computers and mobile devices should complement each other. Mobile phones are ideal for personalized, short sessions, and small information streams. Computers and tablets are suited for more intensive applications, extensive searching, and e-book reading. Public Internet access centers should extend their portfolio by more deeply integrating wireless support. At the same time, considering the likely growth of smartphones and other Wi-Fi-enabled mobile devices, the government could consider supporting free wireless local area network access for rural areas.