Premier Li's wife becomes bestseller
china.org.cn / chinagate.cn By Chen Boyuan, May 6, 2014

Adjust font size:

A collection of American literature works translated by Cheng Hong (in photos), wife of China's Premier Li Keqiang, have become bestsellers across China, with respectful and curious readers rushing to take them off shelves.

 The "Collection of Translated American Naturalist Literature" started selling well ever since being published last year. Assistants at a bookstore of SDX Joint Publishing Company said the collection's popularity has earned the books noticeable places in stores. They noted there was only one copy left of "Refuge: An Unnatural History of Family and Place," one of the books in the series.

The decision to publish Cheng's translated works on the eve of the CPC's 18th National Congress was not because of her particular position, but for the books' academic and marketable values, said the collection's editor Ms. Li Xuejun in denying Cheng's premier husband was ever a factor in the publisher's plans.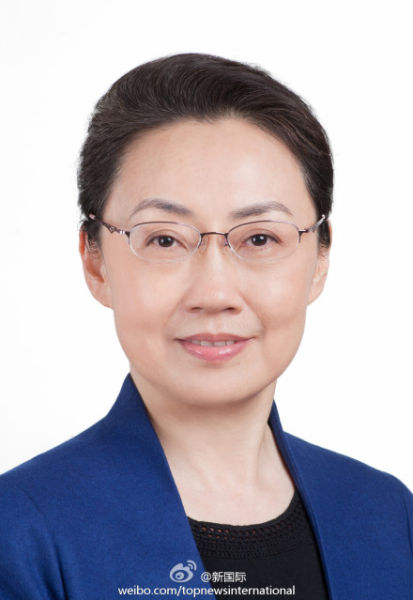 Cheng Hong, Premier Li's wife, has had a more than 30-year career as a well-liked English professor at Capital University of Economics and Business in Beijing. [photo / Xinhua]
Ms. Li added Cheng had not intended to create "a collection of translated works" until recently. Cheng decided to have SDX Joint Publishing Company publish a collection that includes "Wake Robin," "The Outermost House," "The Singing wilderness" and "Refuge: An Unnatural History of Family and Place." 
According to Li, she and Cheng first got in touch more than 10 years ago, from whereon she witnessed the translator rendering the four books into Chinese in a decade's time. She acknowledged Cheng as a diligent and unalloyed force in academic research.
"The names of those plants and birds are completely unknown to me, even in Chinese. Yet she [Cheng] would consult different dictionaries just for one word. "Scholars like her are really rarely seen these days," Li said.
Yang Lihua, another senior editor, praised Cheng's accuracy, among her other skills, in maintaining the style of the original pieces in the translations. She commented by saying naturalistic literature, unlike regular fiction novels or memoires, is challenging both to the translator's comprehension of English as to his or her Chinese writing skills.
Yang said the collection now amounts to "a perfect presentation of faithfulness, expressiveness and elegance" -- the top realm for translation.
Cheng once noted that "working on texts requires measured efforts" and "academic research deserves perfection," in part to explain why she had been relatively slow in translating the literature works when everyone else was dashing forward.
Cheng is a professor of English at the Capital University of Economics and Business and a top expert in American naturalistic literature in China. She quit teaching to focus on her research when her husband, Li Keqiang, became vice premier.