Illuminating the future
China Daily, May 5, 2014

Adjust font size: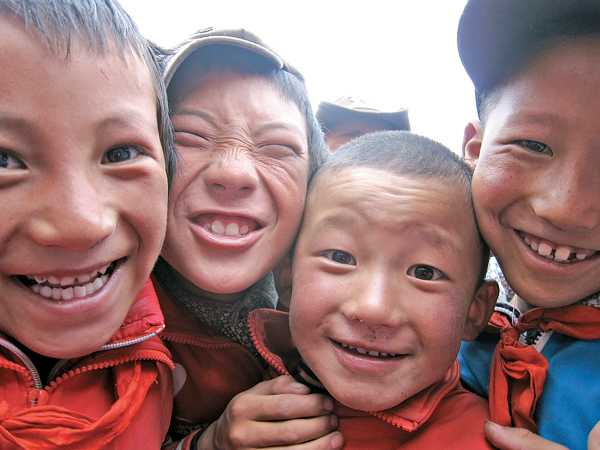 Qumahe Primary School lacked sufficient electricity until the nonprofit organization StepUp! donated three solar panels in July 2013. The remote school's principal says the light after dark "has given the children a second pair of eyes". [Photo by Erik Nilsson / China Daily]
Qumahe's children are their community's first generation that can read - but they would effectively become illiterate after dusk. That's because the 183 students in the remote township of Tibetan nomads in Qinghai province's Yushu prefecture studied in a school without enough electricity to power lights until StepUp!, a nonprofit organization, donated three solar panels in July 2013. It gave another panel to the smaller Duoxiu village boarding school of 102 students and had previously installed four in two other schools. It also gives clothes, computers, Wi-Fi, study materials and food.
Previously, Qumahe's primary school used candles or small solar lamps.
More than 180 students ages 6 to 15 would crowd around these faint lights, headmaster Youngdingqupai explains.
The community is too secluded to connect to the fossil-fuel power grid. So all electricity must come from solar.
Solar panels are also suitable for roving herders.
Two-thirds of the heads of nomadic households surveyed by the World Bank can't read, but two-thirds of those with access to electricity can.
The government donated a panel to the school three years ago. But it could only power the class bell and announcement system.
More than 70 percent of school buildings were without electricity until last summer.
The neighboring government office has a solar farm and shares two panels with the school, bringing occasional power to about a third of the buildings. But the campus only gets one hour of electricity from the system and less if the government has an event.
"Students had no electricity after 8 pm to 8:40 pm throughout the year," Youngdingqupai says.
"If the government uses more, we get less. If it uses a lot, we had to wait days for the batteries to recharge."
And the school had to pay for power before it got its own panels.
"We're running a debt," Youngdingqupai says. "We haven't paid a dime on it."
But lights aren't the only improvements the solar system donated by StepUp! has brought.
"We've had fridges and dishwashers for a while," Youngdingqupai says. "But they sat in boxes in the corner of the canteen because we didn't have power."
Inspectors deemed the canteen dangerous following the 2010 magnitude-7 quake.
"Meat and dairy are crucial to us nomads," Youngdingqupai says.
"They require refrigeration."
That said, an average altitude of 4,500 meters means it snows 10 months a year, making natural refrigeration an alternative most of the time.
"Our community becomes a freezer in winter," Youngdingqupai says.