China's farmers feel deflationary chill
Xinhua, April 29, 2014

Adjust font size: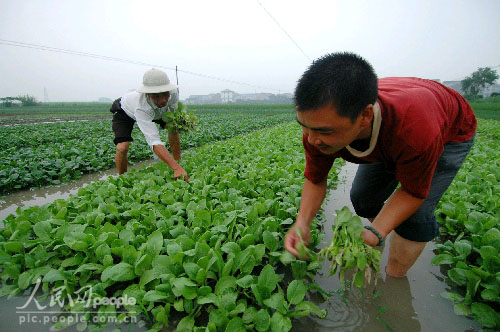 For hungry consumers, food deflation is a blessing: for hungry farmers, a curse.
Many of China's hundreds of millions of farmers are feeling the squeeze of lower prices for a variety of produce, ranging from vegetables through pork to cooking oil. In March, food prices dipped 1.6 percent month on month. Prices of pork, vegetables and aquatic products fell 7.1 percent, 5.4 percent and 1.9 percent, respectively.
According to the Ministry of Commerce, farm produce prices in 36 major cities nationwide dropped further in the week ending April 27, the tenth straight week of decline.
Pig farmers are hard hit as hog price slumped to their lowest levels in years: 2.1 percent week on week and 13.2 percent year on year to 10 yuan per kg in the week ending April 20, according to the Animal Husbandry and Veterinary Bureau of Shandong. Each hog could result into economic losses of 358 yuan (57 U.S. dollars).
Zhang Juting, owner of a pig farm in Huxian county in Xi'an, capital of northwest China's Shaanxi Province, said his costs are nearly 14 yuan per kg while the selling price is 10 yuan per kg. "Since the beginning of the year, our losses have amounted to more than 400,000 yuan," he said.
If the market continues to be weak, Zhang Yugang, owner of a smaller pig farm also in Huxian county, will not be able to sustain his business.
Li Zonghan, who runs a large pig farm with 700 sows and 4,000 hogs in Gaoqing county in east China's Shandong Province, also faces enormous pressure. "Last year the hog industry started to lose money and the losses became bigger this year," said Li. "Many pig farmers have fled the industry."
For vegetable farmers, deflation also hurts.
Jia Chongshan, president of Shuntai Agricultural Technology Co. in Shouguang city of Shandong, a major vegetable production and trading center, said the vegetable market has been weak for a long time.
"Even during the New Year holiday, prices of many vegetables even fell 10 percent year on year," said Jia.
Peanut oil fell 6.9 percent in mid April from a year earlier with peanuts taking about 7 yuan per kg. Farmers barely make any money from the crop.
Tang Fan, vice president of Jiahe Agricultural Stockbreeding Co., said oversupply was one reason for the weak market and price declines, and the government campaign against banquets and gift-giving may also have reduced demand.
Zeng Yongqing of the Chinese Association of Animal Science and Veterinary Medicine, said authorities should fund agricultural insurance and provide subsidized loans to farmers. Without such efforts, a large number of farmers may be forced out of business and this could trigger market fluctuations.