Tesla delivers cars to first Chinese customers
china.org.cn / chinagate.cn by Chen Boyuan, April 23, 2014

Adjust font size:

Telsa Motors made a delivery to its first batch of Chinese customers in Beijing on Tuesday, as part of the electric car leader's China market expansion.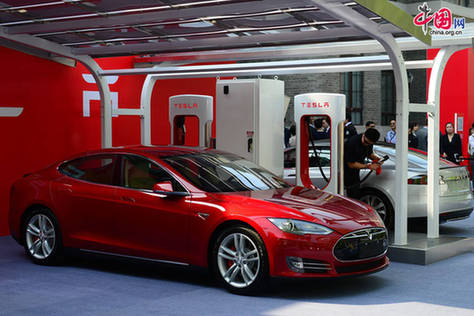 Telsa Motors makes a delivery to its first batch of Chinese customers in Beijing on Tuesday. [China.org.cn]
Missing the current 2014 Beijing International Automotive Exhibition may have been a disappointment for its fans, but the delivery of Tesla's Model-S electric cars outside the company's China headquarters, some 15 km from the car show venue, effectively reignited the enthusiasm of consumers.
Elon Musk, Tesla's co-founder, chairman and CEO, said the first delivery to Chinese customers was a milestone for the company, besides being an important day for Beijing's electric car market.
In an earlier interview, Musk pledged to expand the support network for Tesla cars in China, since both the company and its Chinese customers understand that the availability of charge centers is the precondition for Telsa's sales to grow in China.
Many interested Chinese customers, especially those living outside megacities such as Beijing and Shanghai, have reportedly shown their uncertainty about how to charge electric cars. Besides, Tesla cars' high prices -- more than 730,000 yuan (US$120,000) -- have also fended away many gas money-minded Chinese drivers.
At the delivery ceremony, Musk said the Tesla supercharge center's efficiency is "600 KM per hour", meaning that the Telsa is good enough for daily commuting. He added that the newly built charge centers in Beijing and Shanghai, the only two cities available, use solar power to ensure total zero emissions.
"Tesla cars are charged with clean energy. In this way, you have a sustainable solution for power generation and a sustainable solution for car consumption," Musk said.
China's clean energy leader Hanergy is Tesla's supplier of rooftop thin-film PV cells used in the supercharge centers in China.
Zhang Qingliang, a senior official at Hanergy, said she was glad the cooperation with Tesla was possible. She said, "As a world leader in thin-film PV technology, Hanergy is to solve the issues that cause bottlenecks in the development of electric cars in China."
Sources close to the company said Hanergy has completed the initial installations for Tesla's supercharge stations in Beijing and has set about providing PV solutions for Tesla's Shanghai supercharge centers.