P2P financing: regulation is the key
china.org.cn / chinagate.cn by Zhang Lijuan, April 22, 2014

Adjust font size: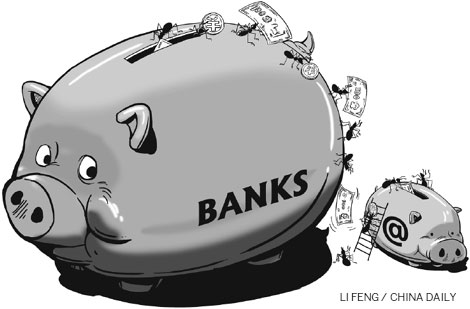 "Peer-to-Peer" or "Person-to-Person" (so called "P2P") financing has experienced a boom in China during the last two years. Hundreds of P2P lending platforms have been established to connect borrowers and lenders through the internet. The increasing interests and activities by both individuals and institutions in P2P loans seem to be a serious "threat" to traditional financing through banks -- big and small. It seems that internet financing in China is rapidly growing, at a faster pace than the American dot-com bubble in the 1990s, and it has the potential to create unforeseeable risks not only for borrowers and lenders, but also for China's regulators and government.
On the one hand, P2P financing does offer loans to individuals or businesses that do not want to use mainstream borrowing channels or do not have access to bank loans. In a good way, P2P financing can help small businesses and startups that do not have access to bank lending and traditional financing resources. On the other hand, P2P financing also contributes to diverting significant capital from banks to internet-based financing platforms.
For years, small business financing has been an impediment to China's market economy. Financial markets have been blocked from further reform and liberalization. Not until the "Wenzhou Lending Crisis" occurred in late 2011 did the Chinese government finally realize how seriously small and private businesses have suffered from the limited financing and scarce lending resources available to them. But no dramatic changes were made until the official launch of the China (Shanghai) Pilot Free Trade Zone. With this initiative, the Chinese government has become truly committed to further financial liberalization.
Just like in the developed world, P2P financing is a new and thriving industry. The very first P2P platforms were set up in the United Kingdom and the United States in 2005 and 2006 respectively, while China's first P2P platform was set up in 2007. Today, attending to lawmaking for both Western nations is still a challenge. The United States Government Accountability Office (GAO) conducted a study in July 2011 in order to assess regulatory needs for P2P financing. New rules and regulations are still working in progress.
For China, regulators will have to face even more challenges. Here is why.