China auto sales rise 9% in March
China Daily, April 9, 2014

Adjust font size:

China's passenger vehicle sales rose 9 percent year-on-year in March, driven by delayed new model launches ahead of the Beijing auto show and a rush to buy before curbs were introduced by the Hangzhou government.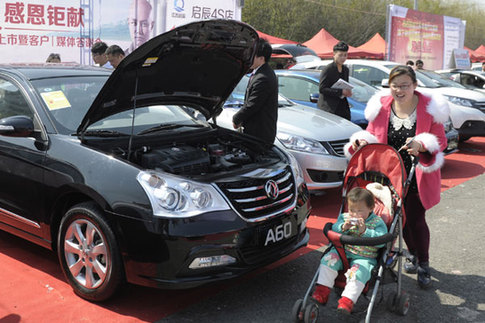 Car dealers offer discounts to attract buyers in Nanjing, Jiangsu province. Passenger vehicle sales in the first three months of 2014 increased 9.5 percent year-on-year to 4.6 million. [China Daily] 
There were 1,588,792 cars, sport-utility or multi-purpose vehicles and minivans sold in March, figures from the China Passenger Car Association showed on Tuesday. Sales in the first three months of 2014 increased 9.5 percent to 4.6 million vehicles, despite a weak February owing to the weeklong Spring Festival holiday.
"Passenger vehicle sales dropped a bit in the first week of March," said Rao Da, the association's secretary-general. They "gradually picked up until the boom in the final week when the Hangzhou government announced the purchase restrictions for new vehicles in the city".
More than 70,000 vehicles were ordered in one day in Hangzhou, the capital of Zhejiang province, after the government announcement on March 25, Rao said.
"More than 10 cities are expected to launch similar limitations on vehicle purchases because of traffic and environmental considerations soon, so panic buying will add at least 500,000 vehicle sales this year," Rao said.
"This points to high growth in China's passenger vehicle market for the whole year," Rao added.
He predicted a similar sales number for April when more than 300 new model vehicles will be unveiled at the Beijing auto show, likely offsetting the impact of there being fewer working days this month.
"For the whole year, the association expects an annual increase of 10 percent in China's overall automobile market and 13 percent in the passenger vehicle sector," Rao said.
"Chinese homegrown automakers will be further challenged not only from a continued declining market share, but also shrinking exports to developing countries," Rao said.
Japanese automaker Nissan Motor Co said on Tuesday that sales in China of its premium Infiniti brand grew 2.53 times in the first quarter, to 6,158 units compared with 2,434 in the same period last year.
Sales in China for US automaker General Motors Co rose to a record in March.
GM sales last month increased 7.8 percent on an annual basis to 313,283 units and by 12.6 percent in the quarter, to 919,114 units.