WB: China's reforms to boost stable, inclusive economy
chinagate.cn by Jiao Meng, April 8, 2014

Adjust font size: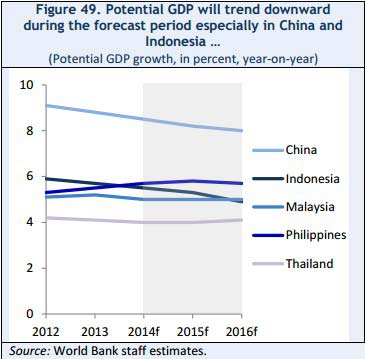 Structural reforms are key to reducing vulnerabilities and enhancing the sustainability of long-term growth, according to the East Asia Pacific Economic Update released Monday by the World Bank.
China's economic growth will ease slightly, to 7.6 percent this year from 7.7 percent in 2013.China has already begun a series of reforms in finance, market access, labor mobility and fiscal policy to increase the efficiency of growth and boost domestic demand. Over time, these measures will put the economy on a more stable, inclusive and sustainable footing. Some initiatives that the government has already announced, such as tax reform and lowering barriers to private investment, may also spur growth in the short term.
Successful reforms in China could bring considerable benefits to trade partners supplying it with agricultural products, consumption goods and modern services. Conversely, spillovers from a disorderly rebalancing in China could hurt regional and global growth, especially in countries relying on natural resource exports.
The rest of the region's developing countries could also benefit from structural reforms, such as facilitating international trade and promoting foreign direct investment, especially in the services sector. In this context, the establishment of the ASEAN Economic Community in 2015 could boost intra-regional investment and exports and provide an important source of growth, the report says.