Mercury squeezed out of 5-yr-old boy's hip
chinadaily.com.cn, April 1, 2014

Adjust font size: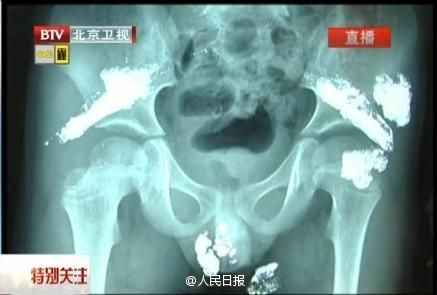 A screenshot from Beijing Television shows the X-ray test result. [Photo/Official Weibo of People's Daily] 
A five-year-old boy in southwestern China is in critical condition after a hazardous level of mercury was found in his body, Yunnan Information Daily reported Monday.
Hospital diagnosis shows that the level of mercury in the blood is more than 200 times than normal, and that in his urine is more than 10,000 times than normal.
His central nervous system could be damaged if the mercury is not withdrawn as soon as possible, according to his father.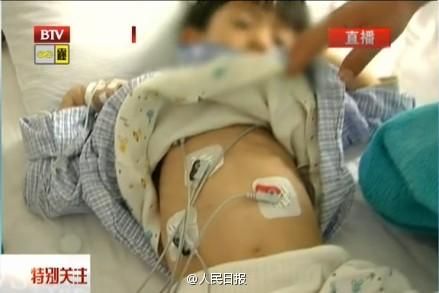 A screenshot from Beijing Television. [Photo/Official Weibo of People's Daily]

As early as one and a half years ago, his father found traces of mercury in his feces.
"We went to the hospital then. An X-ray test showed that there was lots of mercury in his body, many in the alimentary canal. My son told us that it was fed by other children in the kindergarten," said the father, only giving his surname, Yu.
In early 2014, the boy, in Kunming, capital of southwest China's Yunnan province, had a high fever for a week and a couple of sparkling substances, later confirmed to be mercury, were squeezed from under the bulging skin on his buttocks.