11 new signals from the premier's press conference
china.org.cn / chinagate.cn by RDCY, March 17, 2014

Adjust font size:

Premier Li Keqiang responded to questions from Chinese and international press on Thursday March 13, 2014, concluding the annual session of the 12th National People's Congress.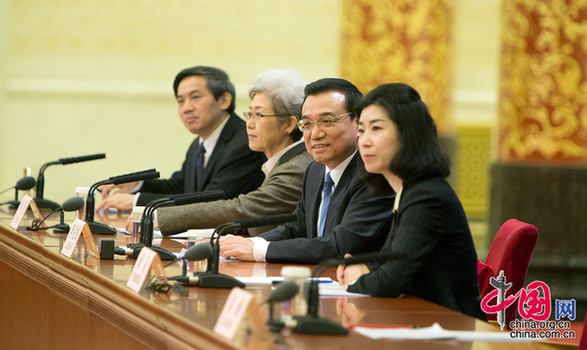 Chinese Premier Li Keqiang is hosting a press conference at the Great Hall of the People in Beijing, capital of China, March 13, 2014.[China.org.cn]
During the press conference, Premier Li revealed a handful of new signals, reiterated reforms in key sectors, and explained his opinions about other issues of interest. The Chongyang Institute for Financial Studies (RDCY) at Renmin University of China (RUC) has summarized the 11 new signals as follows:
1. "To respond to downward economic pressure, the central authorities resolutely launched an overall debt audit, in a bid to rectify financing platforms and standardize budget management."
Last year, central and local government debts amounted to nearly 11 trillion yuan (US$1.79 trillion), in which a large part was for urban construction, land reserves, transport, affordable housing, science, education, culture, health, agriculture and ecological protection. The huge debts have affected the national economy.
In 2010, the State Council demanded the cleaning up of local financing platforms through raising the threshold of registered capital, injecting good-quality capital and reshuffling legal person management, in order to improve financial companies' capital quality and their solvency. But the measure only caused a continued expansion of local debts.
In line with Premier Li's repeated urge to "rectify" financing platforms, some financing platforms will be officially recognized, and others be dealt properly according to their own nature.