GM food sparks debate over food security
china.org.cn / chinagate.cn by He Shan, March 12, 2014

Adjust font size: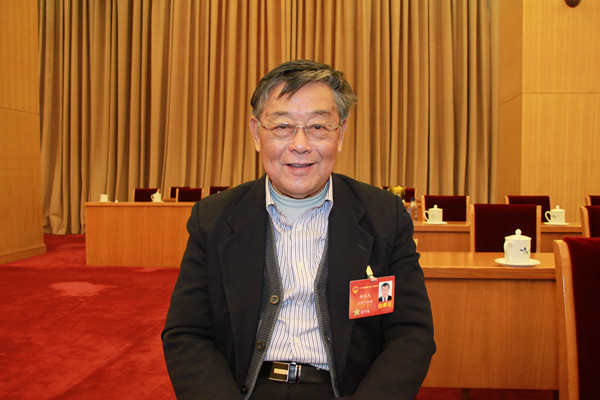 Zhao Yafu, a NPC deputy and former director of the Agricultural Science Institute in Zhenjiang City of Jiangsu Province. [China.org.cn]
Cui Yongyuan, a political advisor and former TV anchor has urged the government to strengthen its grip on genetically-modified (GM) food, sparking a widespread debate on food security that has been put at the top of the government's agenda.
Cui Yongyuan made a field trip to the United States to solicit opinions on the security of GM food prior to his participation in the second session of the 12th National Committee of the Chinese People's Political Consultative Conference (CPPCC).
There has been continuous suspicion about GM food, as China tries to figure out how to feed its people.
"The GM food issue has been talked a lot. In my opinion, GM food is of little harm to human health," said Zhao Yafu, a NPC deputy and former director of the Agricultural Science Institute in Zhenjiang City of Jiangsu Province, told China.org.cn.
He said what worries him most is not the impact of GM food on humans, but its impact on the environment. If pollen from GM crops spreads to other crops and combines to produce a new type of crop, it would likely have an unexpected and disastrous outcome. This is the worst case," he said.
China is trying to enter the GMO market, but is keener to develop its own technologies to meet rising agricultural demands, said the vice minister of agriculture on Thursday on the sidelines of the annual sessions.
Zhao Yafu said it is a little bit late for China to catch up with other countries which have already got ahead in the GM industry. He said it will take a lot of effort and time for China to become a big market player, and it is inevitable that China will have to import GM farm produce for a long time.
China imported 58.38 million tons of soybeans last year, most of which were GM soybeans from countries such as the United States, Brazil and Argentina, according to Chen Xiwen, deputy director of the Office of the Leading Group on Rural Work under the Central Committee of the Communist Party of China.
Zhao Yifu also noted the gravity of soil pollution and its effect on agriculture. "Soil pollution has been very acute. It is mainly caused by an overdose of fertilizer and pesticides, as well as heavy metal from mining and car emissions."
About 10 million hectares of farmland in China is too polluted to grow crops on, 8.3 percent of the total farmland nationwide, according to a land survey released last year.
Zhao said that a solution to the issue is to develop organic agriculture which can reduce the usage of fertilizer and pesticides, but this would require government investment and guidance.