Gas leak blamed for Dongguan restaurant blast
Xinhua, March 4, 2014

Adjust font size: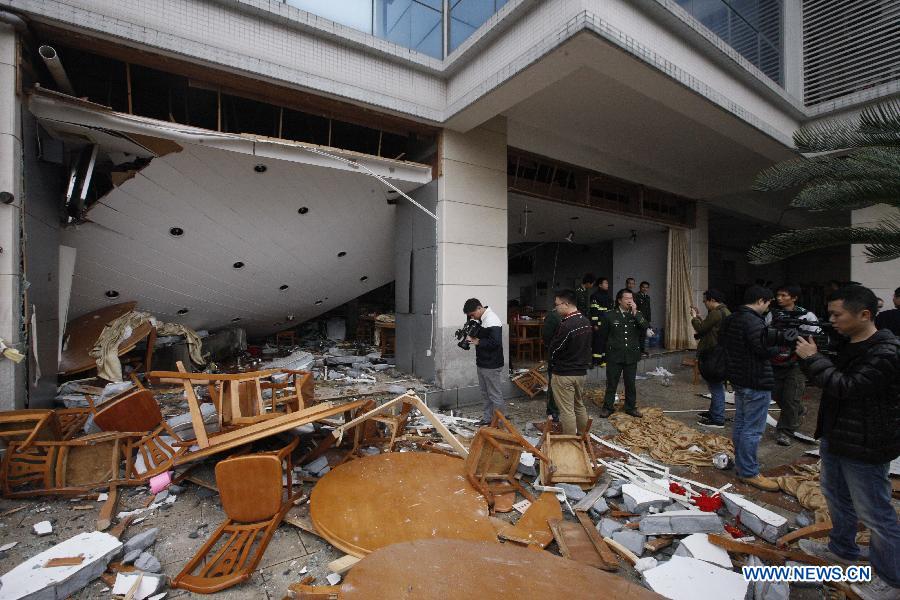 Policemen investigate at an explosion scene in a restaurant in Dongguan City of south China's Guangdong Province, March 3, 2014. One person was killed and another 13 were injured in a restaurant explosion on Monday lunchtime in Dongguan, local authorities said. (Xinhua)
Local authorities have blamed a gas leak for an explosion on Monday that claimed one life and injured another 31 people in a restaurant in Dongguan, south China's Guangdong Province.
The blast occurred at 12:10 p.m. in the kitchen of a staff canteen for workers at Chinese oil refiner Sinopec's Dongguan branch, said sources with the publicity office of Dongguan city government.
Wang Weixuan, a spokesman for the city's fire department, said investigation had showed that the gas tank in the restaurant exploded due to a gas leak, and the ceiling collapsed.
All the injured people were sent to a nearby hospital, with 11 of them already discharged. Some of them are in severe conditions, however.
Further investigation and treatment for those in serious condition are under way.