Experiencing farm work at agricultural carnival
chinadaily.com.cn, February 25, 2014

Adjust font size: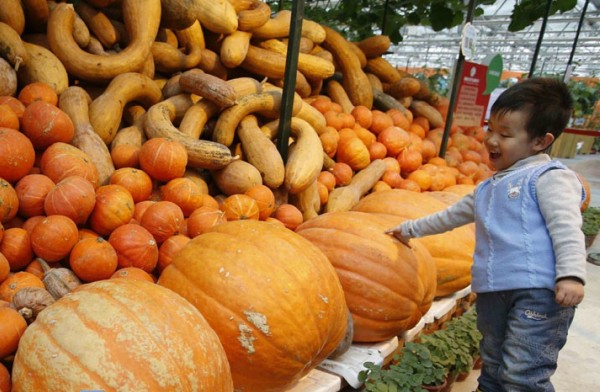 A young boy takes photos with large pumpkins on display at last year's Agriculture Carnival held in Changping district, Beijing. [Photo/Xinhua]
This year's Beijing Agricultural Carnival, which will kick off in the Strawberry Expo Park in Beijing's Changping district on March 15, will provide people with a chance to experience farmers' lifestyle, such as grinding flour with a stone mill, spinning and weaving.
The carnival will feature an agricultural products exhibition and fair, as well offer dining and entertainment activities. A total of 13,000 strawberries that have been planted in seven different cultivation models, will be on display.
Visitors will also get to know about all kinds of mushrooms, including their nutritional and officinal value. A 900-square-meter hall will exhibit more than 20 grain crops that were planted in different parts of China.
As the first event to integrate a carnival with agriculture in Beijing, the campaign is sponsored by the Beijing Municipal Commission of Rural Affairs, the Beijing Municipal Commission of Science and Technology, Beijing's Municipal Commission of Education, the Beijing Municipal Bureau of Culture and Changping district government.