Striving for Equality
Beijing Review, February 20, 2014

Adjust font size:

China remains determined to reform its income distribution system and to narrow the wealth gap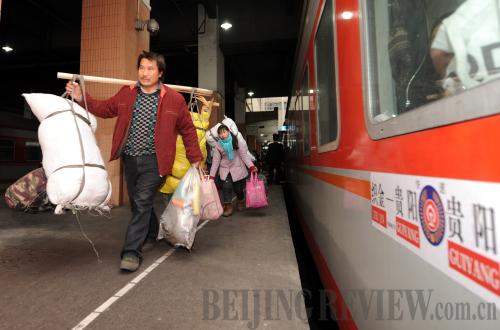 RURAL ROOTS: Migrant workers from the countryside board the train home to Guizhou Province at a railway station in Hangzhou, Zhejiang Province, on January 29, 2014 (WANG DINGCHANG)
China's Gini coefficient declined for the fifth consecutive year in 2013, dropping to 0.473, according to figures disclosed by the National Bureau of Statistics (NBS) on January 20. The measurement was based on 400,000 households surveyed throughout the country, according Ma Jiantang, Director of the NBS.
"China's index for 2013 is slightly down from the 0.474 recorded in 2012 but still higher than the warning level set by the World Bank, which is 0.4," Ma said. According to World Bank standards, if a Gini coefficient is above 0.4, that country's economy has much to do in order to improve their income distribution.
"The problem has to be addressed through better allocation of resources and the acceleration of income distribution reform," Ma commented.
The Gini coefficient, as it is defined by the World Bank, measures the extent to which the distribution of income or expenditure among individuals or households within an economy deviates from a perfectly equal distribution. A Gini index of 0 would represent a perfectly equal distribution of income, a society where everybody owns the same amount of wealth. Conversely, a Gini index of 1 would indicate a society where all wealth is held by one individual and all others own absolutely none. According to World Bank statistics, the Republic of Seychelles, a 155-island country located off the eastern coast of Africa in the Indian Ocean, has the highest Gini coefficient at 0.66. Denmark in Europe has the lowest, at only 0.24. These statistics were recorded in 2007 and 2005, respectively.
Along with the Gini coefficient, the NBS also released figures on residential incomes. According to the bureau's statistics, the per-capita disposable income of urban residents increased 9.7 percent in 2013 compared to a year earlier to reach 26,955 yuan ($4,448), while rural households' per-capita net income stood at 8,896 yuan ($1,468), up 12.4 percent year on year.
Rural households' income growth continued to outpace that of urban households, with real rates of growth of 9.3 percent and 7 percent respectively, the NBS figures show.
A serious index
Letting some people get rich first and then helping others achieve common prosperity has long been regarded as a viable strategy for China to pull people out of poverty.
However, in mid-January 2013, when China released its first official rich-poor index since 2000, it painted a far-from-rosy picture of what the country needs to do to bridge the wealth gap.
In 2008, China's Gini coefficient reached its peak since records began, at 0.49. Although it has gradually declined, edging down to last year's reported 0.474, experts are still worried about the accompanying challenges because the figure is well over the World Bank warning line, which is 0.4.
"The index shows that the wealth disparity is still a very real problem in China," said Niu Li, a senior economist with the State Information Center.
According to a report released by the Chinese Academy of Social Sciences (CASS) in late December last year, the widening wealth gap became one of the most prominent issues for Chinese people in 2013. The report revealed that the highest average income levels were more than 20 times the lowest average nationwide.
Although average annual household income at different levels all saw around 10 percent growth in 2012, the annual income for high-income families reached 43,798 yuan ($7,227), while low-income households only earned 1,588 yuan ($262), the report said.
Regarding this, Ma with the NBS reiterated the importance of deepening income distribution reform as well as increasing the income of low-to-mid earners. He also said that regulating legal income and cracking down on illegal sources of cash are crucial in ensuring more rational income distribution.
Gan Li, Director of the Survey and Research Center for China Household Finance under the Southwestern University of Finance and Economics in Chengdu, Sichuan Province, believes that in the long term, the government needs to raise the education levels of poor households and provide them with more access to opportunities.