Next stop, outer space
China Daily, January 24, 2014

Adjust font size: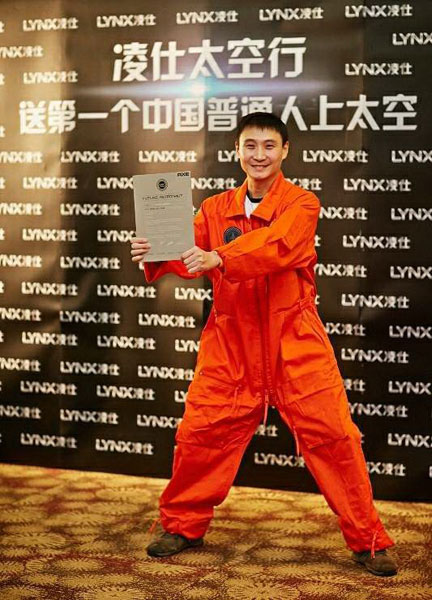 Zhao Xingde shows off his "future astronaut" accreditation issued by the American Space Expedition Corporation for a space trip in 2015. Photo Provided to China Daily
Backpacker Zhao Xingde never imagined that the last stop on his world trip would be outer space.
The traveler from China's southwest Sichuan province, has been chosen by American commercial flight company Space Expedition Corporation to journey to space. He will be flying from the Earth in a manned spaceship at the end of 2015.
Last April, he read on micro blog platform weibo about an online game. The winners would have the chance to travel to space.
The competition was run by Lynx, a men's toiletries brand belonging to Unilever. Thinking it was a joke, he played the online game and won first prize. He filled in a few forms, and to his surprise, he was soon contacted by the organizer, and asked to take part in the next stage of the selection process.
"I believe my experience traveling around the world helped me," Zhao says.
He was traveling in Cuzco, Peru when he entered the competition, just another stop on his tour of the world.
The idea to travel the world began when Zhao was a student in college. One day after winning a football competition, he bragged to his roommates and friends that some day he would play football in different parts of the world.
Zhao, who is in his 30s, decided to realize this dream in 2011. He quit his job and bought a ticket to Switzerland in September 2011, starting his "football trip".
He has traveled to 25 countries on six continents. Each time he arrives in a place the first thing he does is find someone to play football with, and records a small film clip.
"Each time is so amazing, like realizing a dream," the backpacker says with a smile, but his most interesting experience was in Rio de Janeiro, Brazil, last March.