Unseen Exams
Beijing Review by Wang Hairong, January 20, 2014

Adjust font size:

The visually impaired are struggling for equal access to university admission exams and education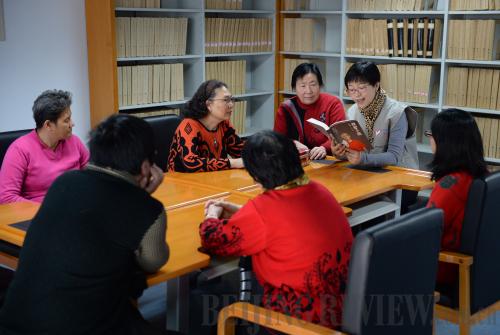 SPECIAL READING: A volunteer reads a book to visually impaired people in the Chinese Braille Library in Xicheng District, Beijing, on December 25, 2013 (LI XIN)
December 18, 2013 was an important day not only for Li Jinsheng, a blind man in central China's Henan Province, but also for all visually impaired people in the country who aspire to receive a university education. On that day, Li received a call from the Education Bureau of Henan's Queshan County informing him that he had been successfully registered for the annual national college entrance exam.
Only a few days prior, Li applied to sit the exam in 2014, but was rejected. The Higher Education Admissions Office of Zhumadian City in Henan said that his application could not be accepted because test papers in Braille were not available.
Li did not give up. He repeatedly contacted education authorities at different levels all across Henan and finally received the positive response he was looking for.
Despite Li's final success, the initial rejections that he received raised widespread public concern. Article 54 of China's Law on the Protection of the Disabled Persons, which was amended back in 2008, stipulates that if visually impaired persons are to sit government-organized school admission or professional qualification exams, they should either be provided with test papers in Braille, electronic test papers, or assistance from designated staff.
"The national college entrance exam is conducted by the government, so stipulation is applicable in this case," said Huang Rui, a lawyer with Henan's Boyang Law Firm.
Li Qingzhong, Director of the Parents' Committee of the China Blind Person's Association, said that the main reason blind persons were unable to take the national college entrance exam is that education authorities and universities have not attached sufficient importance to blind persons' rights and interests.
Li believes that special test papers and teaching equipment for the blind should be available if enough effort and money are expended. "If they want to find a solution, they can find one," he said.
Xu Jiacheng, a professor at the Special Education College of Beijing Union University, said that many people believe it is too costly to produce test papers in Braille. Xu suggested that electronic test papers could be used instead.
Limited access
As of the end of 2010, China had 12.63 million visually impaired people, accounting for nearly 15 percent of all disabled individuals in the country, according to the China Disabled Persons' Federation.
China's Education Law, which has been implemented since 1995, stipulates that disabled persons have an equal right to receive education. Significant progress has been made in giving disabled persons access to education in recent years. Nonetheless, data from the China Disabled Persons' Federation show that at the end of 2012, 28 percent of school-aged children with disabilities in China are still unable to enroll.
Discrimination and inadequate allocation of special education resources are the biggest obstacles for children with disabilities, said Xu with Beijing Union University.
"Especially in less developed areas, parents and teachers still think there is no need to educate children with disabilities," Xu said.
For instance, Guizhou Province in southwest China has about 9,400 blind children aged 6 to14, fewer than 10 percent of whom were enrolled in school during the 2011-12 academic year, according to local news portal Gywb.cn.
A statistical report released by the Ministry of Education revealed that in 2012 only 40,900 visually impaired students were enrolled in nine-year compulsory education.
Few choices
Most blind students in the country receive education in special schools dedicated to their needs, from the primary to university level. One teacher working in such an institution revealed to Gmw.cn, the news portal of Beijing-based Guangming Daily on condition of anonymity.
When they become too old for compulsory education, most blind students go to vocational secondary schools to study massage, with a small minority entering universities, according to Wang Rui, a 28-year-old human resources manager working for a blind massage parlor.
Wang lost her eyesight in his childhood and spent more than 10 years studying at a school for the blind. She said that currently, out of safety concerns, schools for the blind are mostly boarding schools, where students only return home once a week or even once a semester. Some children enter such schools when they are as young as 7 years old and spend about a dozen years there, which makes it difficult for them to integrate into society, according to Wang.
Wang said that during her time at primary and junior middle schools, her class once had as many as 20 students, but only two continued into high school, because they knew even if they could get into university, they could only specialize in a narrow selection of majors such as massage and piano tuning.
Currently, only a few universities located in Beijing, Shanghai and Changchun in northeast China's Jilin Province have special programs for blind students. Students are usually recruited separately through special exams.