Demand for Vocational Education on the Rise
China Daily, October 10, 2013 Adjust font size: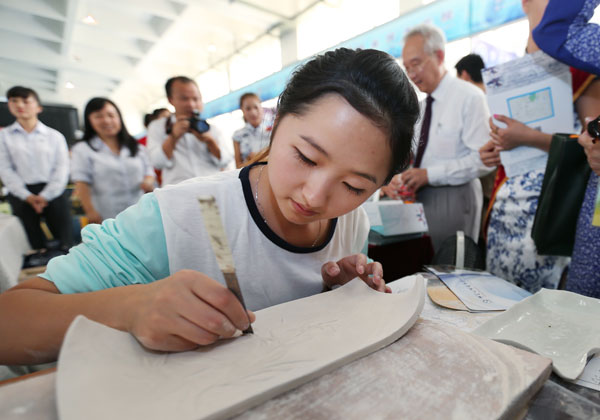 A Chinese student engraves a slab of porcelain during an exhibition for the vocational education cooperation between China and ASEAN in Guiyang, Guizhou Province, on Sept 16. [China Daily]
Xiang Yongkang was delighted to discover during a study tour of Indonesia that the country's universities have great interest in cooperating with his school, Guizhou Electrical Vocational and Technical College.
The college, which is in Guizhou Province and affiliated to China Southern Power Grid, has already forged solid partnerships in Southeast Asia, including in Indonesia, Cambodia and Vietnam.
"Cooperation in vocational education between China and member states of the Association of Southeast Asian Nations is new, but there is great potential," said Xiang, president of the college.
With high demand for skilled labor in various industries, vocational education has become a potential focal point for cooperation between China and the ASEAN.
Despite sluggish economies around the world, Southeast Asian countries have demonstrated a momentum of dynamic economic growth, and governments are presenting increasing demands for skilled labor to further develop industries and keep the trend going.
With similar development problems and the intensified cooperation between China and ASEAN member states, the Southeast Asian countries have set their sights on China for closer links in vocational education.
"We can see the interest in cooperation from vocational education institutions in the ASEAN, especially Indonesia and Malaysia," Xiang said. "Indonesian enterprises are eager to hire more skilled workers, especially power companies, which offers a foundation to develop other industries."
Indonesia has attached great importance to developing its industries and economy.
In an effort to ensure economic sustainability, the government has implemented its largest economic plan to date — MP3EI — to ease Indonesia's transition into an industrialized economy, expand its domestic economy and move up the global value chain.
As Southeast Asian societies transit from agriculture and align with regional and global markets, there will be a significant shift in labor market priorities, according to the Economist in a custom research report for the British Council.
"Not only will some industries absorb greater numbers of workers, it is expected that employers will require a higher level of skills ... and these countries still lack important skills such as English or other foreign language proficiency," the report said.
"Surveyed employers are also skeptical of the labor force's general problem-solving and behavioral skills, and there are perceived shortfalls in computer and information technology."
Institutions in Southeast Asia are more likely to cooperate with Chinese colleges and universities, compared with Western education institutions, as Western technology and know-how is too advanced for ASEAN countries, Xiang said.
"During cooperation with China in various industries, ASEAN countries find that the technologies offered by Chinese vocational education institutions are more suitable for their development and the cooperation cost is lower," he said.