Cinema Helps Students Get Big Picture at School
China Daily, September 26, 2013 Adjust font size: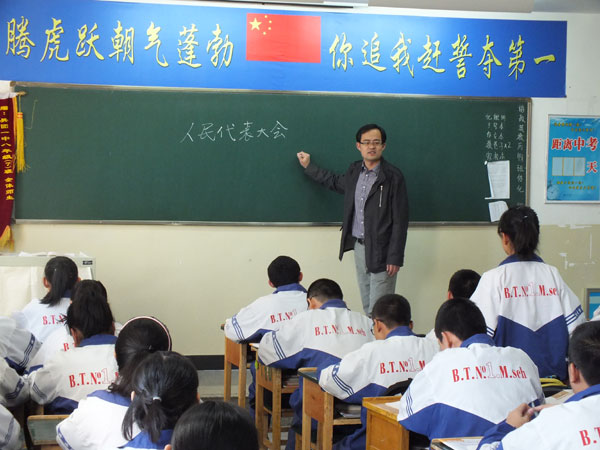 Students take a political class at No 1 Middle School, under the Xinjiang Production and Construction Corps, in Urumqi. [China Daily]
A school has developed an innovative way to enhance learning, including trips to the cinema.
No 1 Middle School, under the Xinjiang Production and Construction Corps, is located in Urumqi.
With 42 classes and 2,700 students, it ranked first in high school entrance exams for 2013 among middle schools in the Xinjiang Uygur Autonomous Region.
"We are proud of this ranking, but this is only one aspect," said Ji Hongyuan, principal of the school. The actual method of teaching is the key to the school's success, Ji believes. "We go to the cinema together once a month."
Not surprisingly, students are in favor of the modern approach.
"We also go on outdoor trips at least once a semester." Wang Tianjiu from Class 12, Grade 9 said: "Different grades have different schedules, which is fantastic."
The principal said these activities are only the first step.
"Our aim is to cultivate habits for daily life instead of lecturing," Ji said.
Being different from most schools, Ji's students don't need to clean classrooms everyday because no one discards rubbish. Those on cleanup duty only need to dump the garbage can.
They are encouraged to talk freely in class, but order and discipline are not compromised.
"Students are active, I even feel a little tired after class," said Li Mingxian, head teacher of Class 5, Grade 9.
Ji's philosophy is that teachers and students both benefit from this unique approach.
"Making students feel at ease in school and inspiring the teachers are two sides of the same coin," Ji said.