A Lesson in Putting Children First
China Daily, September 10, 2013 Adjust font size: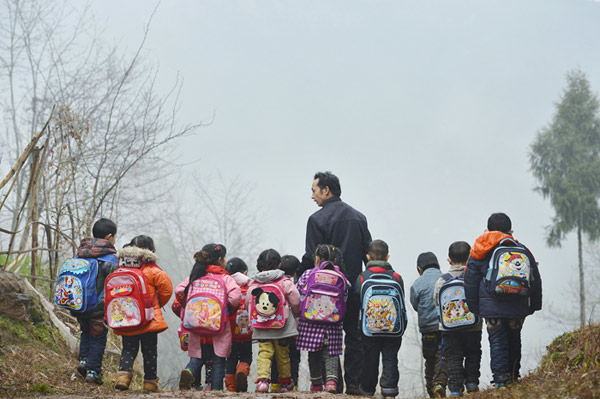 Liao Zhanfu escorts his students back home after school in Huotiangang Village, Tonagjiang County, southwest China's Sichuan Province on March 5, 2013. [Photo by Zhu Jianguo/ for chinadaily.com.cn]
Liao Zhanfu, 43, still remembers the dreadful event in 1977.
A villager in his home county of Tongjiang, Sichuan Province, threw his two children, aged 6 and 7, into a pond near the school playground where he was playing with several other second graders.
"When my teacher Zheng Tinghua saved the children, their tearful father said he could not afford to bring them up due to poverty," Liao said.
In that year, China resumed its national university entrance examination after a suspension of more than a decade in the aftermath of the "cultural revolution" (1966-76).
"Both the tragic event and the restored exam motivated me to pursue higher education to become a teacher and help villagers beat poverty through education," Liao said.
When he sat the exam 11 years later, his score was more than 30 points higher than required to enter university. But failing eyesight deprived him of the opportunity.
Frustrated, the 18-year-old volunteered to work as a teacher in the mountainous Huotiangang Village Primary School. The only way to get there was a four-hour walk.
The school had three other teachers including 26-year-old Zhang Xingqiong, the principal.
With no water or power supply, the school, more than 1,300 meters above sea level, had only three classrooms of wood and mud.
Two teachers soon quit, leaving Liao and Zhang behind. Zhang, the only high school graduate in Huotiangang village, had been a teacher in the village primary school for eight years.
Due to poor working conditions and low pay, Zhang often considered leaving and taking up work as a migrant laborer. But the villagers had other plans.
"The village head tried to persuade Liao to marry Zhang so that the two could stay," said Dong Kaiping, an official with the Tongjiang county bureau of education.
Villagers then took it upon themselves to persuade the reluctant duo and the tactic worked.
"For the sake of the schoolchildren, we tied the knot in 2002," Zhang said.
The couple actually got on very well. Every day, at 7am, they walked to the school some 20km away.
They taught both Chinese, math, drawing and sports. During the break, they had to prepare lunch for the students.
Liao cut the pupils' hair and nails and the couple spent their own money purchasing medicine to treat colds, coughs and any cuts and bruises.
"After class, we would call them Father Liao and Mother Zhang," said Li Yan, a sophomore with Zhejiang Sci-Tech University in Hangzhou, Zhejiang province, who was Zhang's student.
Although Liao and Zhang each earned only some 2,000 yuan (US$330) a month to support a family of four, they knew they were bringing hope to a community with the chance of further education.
Their daughter is a sophomore at the Chengdu University of Traditional Chinese Medicine in Chengdu.