Warship Open Day Popular with Youth
China Daily, May 13, 2013 Adjust font size:
Jin Shuxin, a student at Tsinghua University in Beijing, had long dreamed of visiting a real warship. On Sunday, her dream came true.
A sophomore majoring in mechanical technology, Jin has decided to join the People's Liberation Army navy when she graduates from the university in two years.
On Sunday, she took part in an open day event held by the PLA navy in Zhoushan, Zhejiang Province, where she had the chance to board a warship - the Yiyang, the missile frigate that has just completed a six-month escort mission in the Gulf of Aden.
"I'm really proud of the progress our navy has made. I also feel responsible for protecting our country," Jin said.
The open day was a part of a two-day promotional program jointly held by the PLA navy and Tsinghua University. Other activities include a visit to the Opium War Museum in Zhoushan.
Vice-Admiral Wang Sentai, deputy political commissar of the PLA navy, said the event aims to offer the public a clear understanding of the navy's achievements.
"As a long-term strategy, we hope more and more people, especially youngsters, will be interested in the ocean and our navy and contribute their efforts," he said.
Yang Yuxin is a third-grader in Yancang Central Elementary School. He is also a fan of warships and he described the visit as a "feast for the eyes".
"Everything is so cool on the battleship. I hope one day I can actually be on the warship out at sea," he said.
Wang said China has a maritime territory of more than 3 million sq km, but the country is far from being a strong seafaring nation.
Because of historical reasons, China has maritime disputes with eight neighboring countries along its coastline and in recent years these disputes have become fiercer.
In April last year, a warship from the Philippines entered China's territorial waters around Huangyan Island in the South China Sea and harassed Chinese fishermen. Vietnam has declared that China's Xisha and Nansha islands are its territory.
On May 9, an armed vessel from the Philippines attacked a Taiwan fishing boat in an area about 160 nautical miles southeast of the southernmost tip of the island of Taiwan, killing one person and injuring three others.
In the East China Sea, Japan continues to ignore China's sovereignty over the Diaoyu Islands.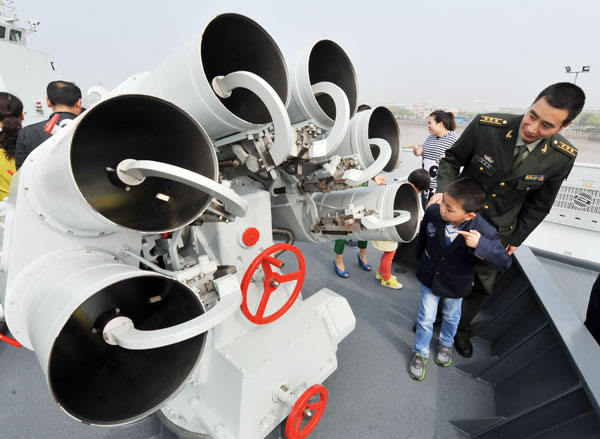 People's Liberation Army officers and civilians visit the PLA navy's missile frigate Yiyang on Saturday during an open day event in Zhoushan, Zhejiang Province. [China Daily]