Sophisticated 3-D Becoming More Affordable
China Daily, May 9, 2013 Adjust font size:
China's fast-growing 3-D printing technology has become more sophisticated yet more affordable.
Technology savvy buyers may now spend as little as 6,800 yuan (US$1,100) for a printer that churns out anything from a microwave to a hammer or a doll.
"As long as you have computer aided design software, we can have it printed. New manufacturing techniques may shorten the production cycle and meet personalized needs," Li Yizhe, a representative of Shaanxi Hengtong Intelligent Machine, said at the China (Shanghai) International Technology Fair.
More than 100 new technologies showcased by 30 companies aim to ride the 3-D printing boom and eat away at the market share of dominant foreign companies.
The company's products can also massproduce spare parts for industrial and medical uses. For instance, 3-D printing provides a fast, efficient and affordable way for people to receive dental implants.
"With a 3-D printer, the dentist may verify the quality of braces, ensuring a proper dental piece fits," Li said.
It also significantly reduces turnaround costs. Li said his company charges 10 yuan for 1 gram of plastic printing, and one set of braces weighs up to 20 grams.
Such machines sell for 400,000 yuan. A similar product using European technologies is three times more expensive, Li noted.
Li has seen a growing percentage of revenue coming from exports to Southeast Asian countries, Russia and Africa.
China plans to invest in domestically-invented 3-D printing technologies to boost its manufacturing power. In December, Su Bo, vice-minister of industry and information technology, urged the country to establish plans and use tax incentives to speed up research and development and application of 3-D printing technologies.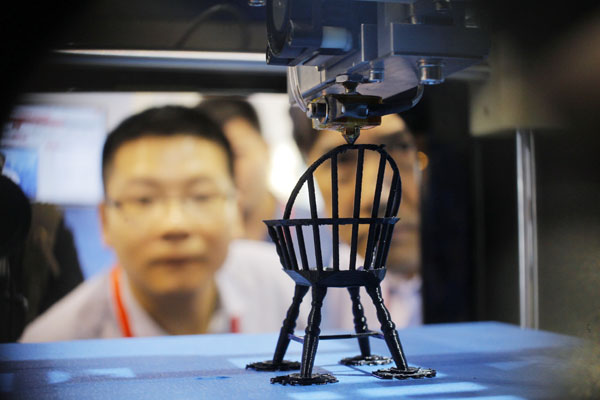 A visitor admires a model of a chair being printed on a 3-D printer at the China (Shanghai) International Technology Fair in Shanghai on Wednesday. [China Daily]